Macs For Seniors For Dummies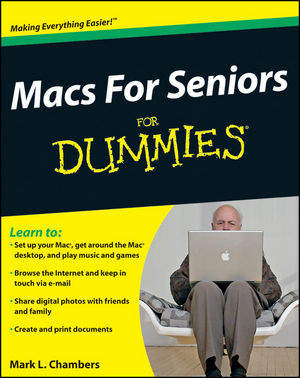 Macs For Seniors For Dummies
ISBN: 978-0-470-49821-7
Aug 2011
408 pages
Product not available for purchase
Description
Over 50 and thinking about getting your first computer? A user-friendly Mac is a great choice, and Macs For Seniors For Dummies walks you through choosing one and learning to use it. You won't even need your grandchildren to help!

Macs For Seniors For Dummies introduces you to all the basic things you may not have encountered before—how to use the keyboard and mouse, work with files and folders, navigate around the Mac OS X desktop, set up an Internet connection, and much more. You'll learn to:
Choose the Mac that's right for you, set it up, run programs and manage files, and hook up a printer
Use all the programs that come with your Mac for creating documents and spreadsheets, playing movies and music, and more
Surf the Internet with the Safari browser — safely
Keep in touch with family and friends via e-mail
Upload photos from your digital camera, edit and organize them with iPhoto, and share them by e-mail or as prints
Play music with iTunes, put your favorite songs on a CD, or listen to online radio stations
Use the Web to help plan trips, get maps, book hotels or RV campgrounds, or buy plane tickets
Customize your Mac to make everything as easy and convenient as possible
Even if you've never used a computer before, Macs For Seniors For Dummies makes it really easy to make friends with your Mac. Before you know it, you'll wonder why you waited so long to get a computer!
Introduction.
Part I: Buying and Getting Started with Your Mac.
Chapter 1: Buying a Mac.
Chapter 2: Setting Up Your Mac.
Chapter 3: Getting Around the Mac Desktop.
Chapter 4: Customizing Leopard.
Chapter 5: Working with Files and Folders.
Chapter 6: Working with Printers, Scanners, and Faxes.
Chapter 7: Getting Help.
Part II: Having Fun and Getting Things Done with Software.
Chapter 8: Creating Documents with Pages.
Chapter 9: Working with Numbers and Finances.
Chapter 10: Get the Most from Movies and Digital Photos.
Chapter 11: Enjoying Music, Video, and Podcasts.
Chapter 12: Playing Games in Leopard.
Part III: Exploring the Internet.
Chapter 13: Understanding Internet Basics.
Chapter 14: Browsing the Web with Safari.
Chapter 15: Keeping in Touch by E-Mail.
Chapter 16: Connecting with People Online.
Part IV: Taking Care of Your Computer.
Chapter 17: Protecting Leopard.
Chapter 18: Maintaining Leopard.
Index.