Macs Portable Genius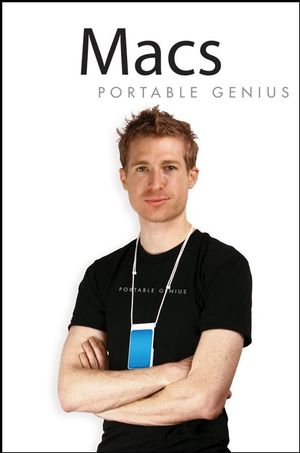 Macs Portable Genius
ISBN: 978-0-470-40652-6
Oct 2008
368 pages
Product not available for purchase
Description
You're one of the legions of fans who enjoy the ease and simplicity of the Mac. But some functions still elude you. How do you synch your Mac with other devices? What are the best ways to organize your life and files with your Mac? Can you get more from your Mac hardware or upgrade it? The Portable Genius is here to help. With expert advice and a Mac-savvy attitude, the Macs Portable Genius guides you through getting the most out of your Mac.

From the Introduction:

""Welcome to Macs Portable Genius. This book is like a mini Genius Bar all wrapped up in an easy to use, easy to access, and eminently portable format. In this book you learn how to get more out of your Mac by learning how to access all the really powerful and timesaving features that aren't obvious at a casual glance. In this book you learn how to avoid your Mac's more annoying character traits and, in those cases where such behavior can't be avoided, you learn how to work around it. In this book you learn how to prevent Mac problems from occurring, and just in case your preventative measures are for naught, you learn how to fix many common problems yourself.

This book is for Mac users who know the basics but want to take their Mac education to a higher level. It's a book for people who want to be more productive, more efficient, more creative, and more self-sufficient (at least as far as their Mac goes, anyway). It's a book for people who use a Mac every day, but would like to incorporate that Mac into more of their day-to-day activities. It's a book for people who pooh-pooh the notion that Mac users are a cult, but if someone decided to start an actual Mac cult, they'd join anyway. It's a book I had a blast writing, so I think it's a book you'll enjoy reading.""
Chapter 1: How Do I Connect and Configure Devices?
Chapter 2: How Do I Connect My Mac with Bluetooth Devices?
Chapter 3: How Do I Synchronize My Mac with Other Devices?
Chapter 4: How Can I Get More Out of the Web?
Chapter 5: How Do I Use My Mac to Organize My Real Life?
Chapter 6: How Do I Use My Mac to Organize My Online Life?
Chapter 7: Can My Mac Help Me Communicate More Effectively?
Chapter 8: How Do I Keep My Mac Running Smoothly?
Chapter 9: Can I Upgrade My Mac?
Chapter 10: How Do I Solve Mac Software Problems?
Chapter 11: How Do I Solve Mac Hardware Problems?
Chapter 12: How Do I Run Windows on My Mac?
Appendix A: Mac Online Resources.
Appendix B: Mac Shortcut Keys.
Glossary.
Index.