Magic Herbs: More Than 200 Delicious and Healthy Recipes That are Naturally Low-Fat and Fat-Free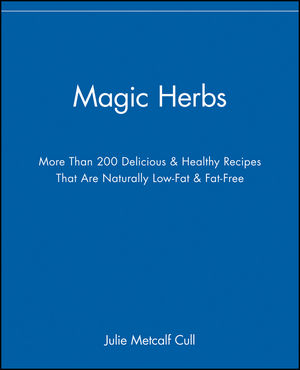 Magic Herbs: More Than 200 Delicious and Healthy Recipes That are Naturally Low-Fat and Fat-Free
ISBN: 978-0-471-34748-4 July 1996 240 Pages
Description
A natural remedy for monotonous meals. In ancient times herbs were thought to heal and perform other wonders. While their magic powers may be just folklore, herbs do provide health benefits--like regulating blood sugar and appetite and raising levels of "good" (HDL) cholesterol. But the real magic of herbs lies in the distinctive flavors they add to foods. They transform low-fat, low-salt meals from, dull to delicious. Magic Herbs is a collection of over 200 recipes that make it easy to spice up your diet, using more than 50 types of herbs in savory dishes that are naturally low-fat and fat-free. Mouthwatering creations include:
* Arugula and Turkey Stuffed Mushrooms
* Dill Weed and Thyme Whole Wheat Herb Bread
* Grilled Porterhouse Steaks and Basil Tomatoes
* Bay Leaf and Cayenne Shrimp Creole
* Nutmeg Orange Marinated Chicken
* Easy Chive and Garlic Twice-Baked Potatoes
* Cinnamon Pumpkin Torte
* Bergamot Strawberry Iced Tea
Each easy-to-make recipe provides preparation time and complete nutrition analysis and exchange information. This unique book also features a "dictionary" of herbs, tips on growing and drying your own, and suggestions for using herbs in decorating and gift-giving.
Table of contents
The Magic of Herbs.

Speaking "Herbese."

At Home with Herbs.

Your Herbal Journey Begins.

Appetizers and Snacks.

Breads and Spreads.

Soups and Sauces.

Vinegars and Salads.

Beef, Pork, and Game.

Seafood, Tofu, Poultry, and Eggs.

Potatoes, Rice, and Pasta.

Vegetables.

Desserts and Toppings.

Tea and Other Beverages.

Bibliography.

Index.