Magic in the Ancient Greek World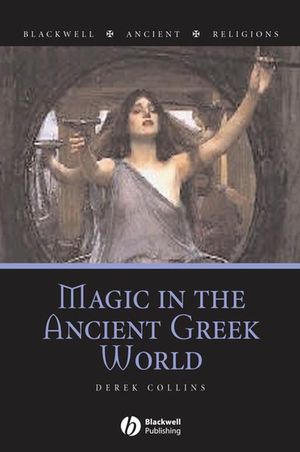 Magic in the Ancient Greek World
ISBN: 978-0-470-69645-3 April 2008 Wiley-Blackwell 224 Pages
Description
Original and comprehensive,
Magic in the Ancient Greek World
takes the reader inside both the social imagination and the ritual reality that made magic possible in ancient Greece.


Explores the widespread use of spells, drugs, curse tablets, and figurines, and the practitioners of magic in the ancient world

Uncovers how magic worked. Was it down to mere superstition? Did the subject need to believe in order for it to have an effect?

Focuses on detailed case studies of individual types of magic

Examines the central role of magic in Greek life
Table of contents
Acknowledgments.
Abbreviations.
Introduction.
Part I: Magic: What Is It and How Does It Work?.
Frazer and Tylor.
Malinowski.
Magic as Communication.
Lévy-Bruhl.
Evans-Pritchard.
Sympathetic Magic.
Magic and the Extended Person.
Magic and Analogy.
Beyond Frazer.
Tambiah and Persuasive Magic.
Conclusion.
Part II: A Framework for Greek Magic.
Magic and the Gods.
Divinity and Nature.
The Hippocratics: Magic, Divination, and Epilepsy.
Plato and Greek Psychology.
Magic and Causality.
Greek Magicians.
Magoi.
Gorgias, mageia and goēteia.
Other Magical Terms.
Conclusion.
Part III: Binding Magic and Erotic Figurines.
Binding the Gods.
Divine Agents.
'Characters'.
Body Parts and Health.
Erotic Magic.
Figurines.
Erōtes.
Part IV: Homeric Incantations.
Pythagoras and Empedocles.
The Mechanics of Homeric Incantations.
Obstetrics and Gynecology.
Verse Combinations and the Power of Metaphor.
Intoxication, Choking, and Gout.
Incantations and Divination.
Neoplatonic Theurgy and Homer.
Conclusion.
Part V: Magic in Greek and Roman Law.
Magic in Greek Law and Legal Imagination.
Trials for Erotic Magic.
Theoris, the Lemnian Witch.
Plato's Laws Against Magic.
Magic in Roman Law and Legal History.
The Twelve Tables.
The Lex Cornelia.
Magia and Maleficium: Magic and Witchcraft.
Apuleius the Magus.
The Opinions of Paulus and Later Law Codes.
Interpretationes Christianae.
The Medieval Inheritance.
Conclusion.
Bibliography.
Index
Reviews
Shortlisted for the Katharine Briggs Award 2008
"Collins, associate professor of Greek and Latin at the University of Michigan, and author of Master of the Game: Competition and Performance in Greek Poetry (2005), seeks to introduce nonspecialists to areas of Greek magic, cover the highpoints of scholarly consensus, and offer new interpretative frameworks for understanding select Greek magical practices." (New Testament Abstracts, January 2009)
"If you want to understand how the Ancient Greeks practised and viewed the magical arts then this book is highly recommended." (The Cauldron)
"Lots of interesting details, brilliant, clear chapters, great insights, and connections. There is a wealth of information and … fascinating little bits of trivia." (About.com)
"This is not simply a rehash of previously covered material. Collins covers a range of magical practices … .This book is an important new addition to studies of ancient magic. Present[s] the reader with a full context for any discussion of magical practices. Collins achieves this without becoming bogged down in a discussion of terminology … which can sometimes derail other studies. The focus on Greek magic centres the book with a clear methodology of always bringing the discussion back to the Greek origins of the magic in question." (Rosetta Papers)
What's New


Explores the widespread use of spells, drugs, curse tablets, and figurines, and the practitioners of magic in the ancient world

Uncovers how magic worked. Was it down to mere superstition? Did the subject need to believe in order for it to have an effect?

Focuses on detailed case studies of individual types of magic

Examines the central role of magic in Greek life