Magnetic Nanomaterials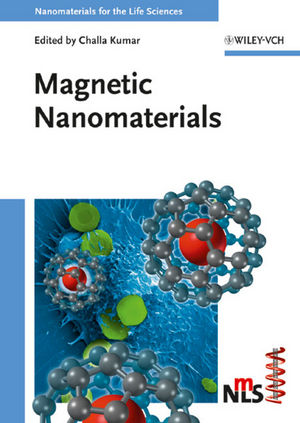 Magnetic Nanomaterials
ISBN: 978-3-527-32154-4 September 2009 672 Pages
Description
The book series Nanomaterials for the Life Sciences, provides an in-depth overview of all nanomaterial types and their uses in the life sciences.

Each volume is dedicated to a specific material class and covers fundamentals, synthesis and characterization strategies, structure-property relationships and biomedical applications. The series brings nanomaterials to the Life Scientists and life science to the Materials Scientists so that synergies are seen and developed to the fullest.

Written by international experts of various facets of this exciting field of research, the series is aimed at scientists of the following disciplines: biology, chemistry, materials science, physics, bioengineering, and medicine, together with cell biology, biomedical engineering, pharmaceutical chemistry, and toxicology, both in academia and fundamental research as well as in pharmaceutical companies.


VOLUME 4 - Magnetic Nanomaterials
This volume takes the reader on a tour showing how magnetic nanomaterials are used in the fields of diagnosis and therapy, as well as in tissue engineering and environmental applications.
Preface

PART I: Biosensing and Diagnosis

NANOMATERIALS-BASED MAGNETIC RELAXATION SWITCH BIOSENSORS
Introduction
Superparamagnetic Nanoparticles
Agglomeration-Based Sensing
T2 Sensitivity of MRSW Particles
Kinetics of Magnetic Relaxation Switch Biosensors
Methods Development
Micro-NMR of Magnetic Relaxation Switch Biosensors
MULTIPLEXED DETECTION WITH MAGNETIC NANOPARTICLES
Introduction
Magnetism and Magnetic Particles
Planar Arrays
Rotating Discs
Diagnostic Devices
Bio-Barcode Assays Based on Magnetic Microspheres
Spectrally Encoded Suspension Arrays of Magnetic Microspheres
Magnetically Encoded Suspension Arrays
Summary and Conclusions
MAGNETOPHORETIC BIOSENSING AND SEPARATION USING MAGNETIC NANOMATERIALS
Introduction
Theory
Magnetophoresis in Microfluidic Devices
Magnetophoretic Biosensing
Magnetophoretic Separation
Concluding Remarks
MAGNETIC NANOMATERIALS AS MRI CONTRAST AGENTS
Introduction
Classification of Magnetic Nanomaterials Used for MRI Applications
Coating and Surface Functionalization of Magnetic Nanoparticles
Properties and Characterization of Magnetic Nanoparticle Suspensions
Application of Magnetic Nanomaterials in MRI
Summary and Future Outlook

PART II: Diagnosis and Therapy

MAGNETIC NANOMATERIALS FOR IN VIVO AND IN VITRO CANCER DIAGNOSTICS
Introduction
Physico-Chemical Properties of Magnetic Nanoparticles
Surface Coating for Improved Biocompatibility and Bioavailability
MRI for In Vivo Diagnostics
MRI for the Monitoring of Treatment
Application of Magnetic Nanoparticles in In Vitro Diagnostics
Detection of Circulating Tumor Cells
Aptamers as an Alternative to Antibodies
Conclusions
MAGNETIC NANOPARTICLES FOR CANCER IMAGING AND THERAPY
Introduction
Synthesis and Surface Modifications of MNPs for Biological Applications
Development of MNPs as Cancer Diagnosis and Imaging Agents
MNPs Applied to Cancer Therapy
Summary
CORE-SHELL MAGNETIC NANOMATERIALS IN MEDICAL DIAGNOSIS AND THERAPY
Introduction
Synthesis
Applications: Magnetic Resonance Imaging
Applications: Hyperthermia and Thermal Ablation
Application: Drug Delivery
Summary and Perspectives

PART III: Tissue Engineering

THE USE OF MAGNETIC PARTICLES IN TISSUE ENGINEERING
Introduction
Magnetic Particle Technology Used in Various Tissue Types
Summary and Concluding Remarks

PART IV: Environmental Applications

MAGNETIC NANOMATERIALS FOR ENVIRONMENTAL APPLICATIONS
Introduction
Synthesis and Functionalization of Magnetic Nanoparticles
Magnetic Nanoparticles for the Separation and Detection of Analytes
Summary and Future Perspective

PART V: Biofunctionalization and Characterization

MAGNETIC CORE-POLYMER SHELL NANOPARTICLES: SYNTHESIS AND BIOMEDICAL APPLICATIONS
Introduction
Synthesis of Magnetic Nanoparticles
Magnetic Nanoparticles with Polymeric Shell
Encapsulation of Magnetic Nanoparticles in a Polymeric Matrix
Future Perspectives
MAGNETOSOMES: BACTERIAL BIOSYNTHESIS OF MAGNETIC NANOPARTICLES AND POTENTIAL BIOMEDICAL APPLICATIONS
Introduction
Magnetic Nanoparticles for Medical Applications
What Is Biomineralization? Biogenic Inorganic Materials
Magnetosomes: Biomineraliization in Magnetic Bacteria
Progress and Applications of Novel Biomedical Magnetosome Materials
The Future for Biomedical Magnetosomes
APPROACHES TO SYNTHESIS AND CHARACTERIZATION OF SPHERICAL AND ANISOMETRIC METALX OXIDE MAGNETIC NANOMATERIALS
Introduction
Magnetism in Nanostructured Metal Oxides
Synthesis Methods for Spherical and Anisometric Iron Oxide Nanomaterials
Correlations between Synthesis and Magnetic Behavior in Iron Oxide Nanomaterials
Conclusions and Perspectives
APPROACHES TO THE SYNTHESIS AND CHARACTERIZATION OF SPHERICAL AND ANISOTROPIC MAGNETIC ALLOY NANOMATERIALS
Introduction
Magnetic Noble Metal Alloy Nanoparticles
Magnetic Early Transition Metal Alloy Nanoparticles
Summary and Future Perspectives
APPROACHES TO THE BIOFUNCTIONALIZATION OF SPHERICAL AND ANISOTROPIC IRON OXIDE NANOMATERIALS
Introduction
Magnetic Nanoparticle Synthesis
Nanoparticle Functionalization
Conclusions
CHARACTERIZATION OF MAGNETIC NANOPARTICLES USING MAGNETIC FORCE MICROSCOPY
Introduction
Develoment of MFM
Comparison of MFM to Other Techniques
Physical Principles of MFM
Noise in MFM
MFM Cantilevers and Probes
Probe Calibration
Resolution in MFM
MFM for Magnetic Nanoparticles
The Application of MFM in the Life Sciences
Limitations in MFM
Recent Developments in MFM
Summary and Future Perspectives
COBALT NANOMATERIALS: SYNTHESIS AND CHARACTERIZATION
Introduction
The Characterization of Co Nanoparticles
Synthesos of Cobalt-Based Nanoparticles
Magnetic Properties of Co Nanoparticles
Summary and Outlook