Maimonides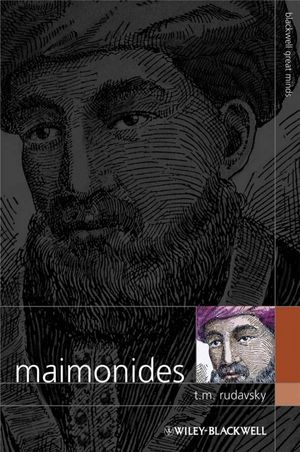 Maimonides
ISBN: 978-1-444-31802-9 December 2009 Wiley-Blackwell 240 Pages
Description
A thorough and accessible introduction to Maimonides, arguably one of the most important Jewish philosophers of all time. This work incorporates material from Maimonides' philosophical, legal, and medical works, providing a synoptic picture of Maimonides' philosophical range.
Maimonides was, and remains, one of the most influential and important Jewish legalists, who devoted himself to a reconceptualization of the entirety of Jewish law
Offers both an intellectual biography and an exploration of the most important philosophical works in Maimonides' corpus
Persuasively argues that Maimonides did see himself as engaged in philosophical dialogue
Maimonides' philosophy is presented in a way that is accessible to readers with little background in either Jewish or medieval philosophy
Secondary readings are provided at the end of each chapter, as well as a bibliography of recent scholarly articles on some of the more pressing philosophical topics covered in the book
Preface.
Abbreviations.
1. Life and Works.
2. Language, Logic, and the Art of Demonstration.
3. What we can say about God.
4. Philosophical Cosmology.
5. Philosophical Anthropology.
6. Naturalism and Supernaturalism: PROPHECY, Miracles, and Divine Will.
7. Philosophical Theology: Divine Providence, Human Freedom, and Theodicy.
8. Morality, Politics, and the Law.
9. On Human Felicity.
Bibliography.
Index.
"In recent years there has been an outpouring of books on Maimonides. This is the best one as far as his philosophy is concerned. Readers will enjoy [Rudavsky's] presentation of the cut and thrust of debate at the time, and the ways it has been continued right up to today, and there is much to learn from this book. Anyone looking for a text to use in the classroom which will engage students on Maimonides' philosophy need look no further since here it is." (Journal of Jewish Studies, 1 March 2011)
 T. M. Rudavsky) interpretations are excellent summaries of the master's teachings and readers can gain much information and thought-provoking ideas from reading it. (The Jewish Eye, April 2010)
Maimonides was, and remains, one of the most influential and important Jewish thinkers
Offers both an intellectual biography and an exploration of the most important philosophical works in Maimonides' corpus
Persuasively argues that Maimonides did see himself as engaged in philosophical dialogue
Maimonides' philosophy is presented in a way that is accessible to readers with little background in either Jewish or medieval philosophy
Secondary readings are provided at the end of each chapter, as well as a bibliography of recent scholarly articles on some of the more pressing philosophical topics covered in the book