Main Street Festivals: Traditional and Unique Events on America's Main Streets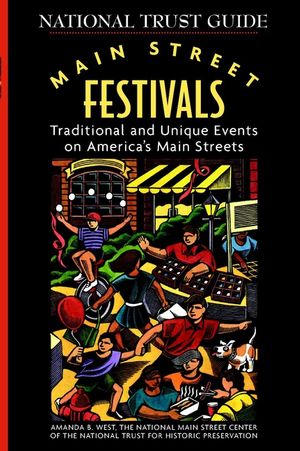 Main Street Festivals: Traditional and Unique Events on America's Main Streets
ISBN: 978-0-471-19290-9
Mar 1998
240 pages
Description
Main Street America is kicking up its heels--and you're invited to the party!

Goodbye sprawl-and-mall--hello downtown! Long-neglected town centers are coming to life once again, and the buzz is back on main streets all across the country. Come celebrate their rebirth with this one-of-a-kind guide to over 700 local festivals and events nationwide. From the weird and wacky to the wild and wonderful, the fun starts with Main Street Festivals. Which will you do first?

Enter a rubber duck race . . . Join a "walk of art" scavenger hunt . . .

Find hot-rod heaven . . . Play cow patty bingo . . .

See antiques and heirloom displays . . .

Discover "bullistic" bull riding . . . Go to a hog slopping contest . . .

Eat black dirt cake . . . Hear blues, bluegrass, and brass bands . . .

Watch a Little Miss National Peanut Pageant . . .

Inside you'll also learn where to find: an onion rodeo, cornstalk shooting, a beautiful baby bagel contest, arts and crafts demonstrations, the perfect-pierogie cookoff, a slugburger fest, quilting exhibitions, farmer olympics, and more. . . . There's something for everyone in Main Street Festivals.
Northeastern and Mid-Atlantic States.

Southern States.

Midwestern States.

Mountains and Plains States.

Southwestern States.

Western States.

Illustration Credits.

Indexes.