Majoring in Psychology: Achieving Your Educational and Career Goals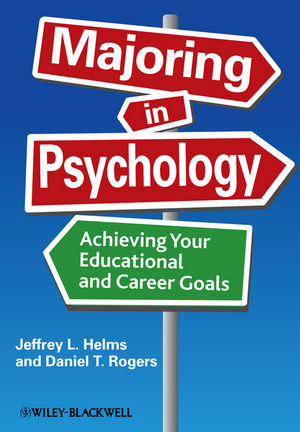 Majoring in Psychology: Achieving Your Educational and Career Goals
ISBN: 978-1-444-34149-2
Feb 2011, Wiley-Blackwell
336 pages
Product not available for purchase
Description
With coverage of important preparatory issues and the key psychology subfields, Majoring in Psychology: Achieving Your Educational and Career Goals provides undergraduate students with clear, concise, research-based information on strategies to begin a successful undergraduate career in psychology.
Provides the most comprehensive text on majoring in psychology currently available
Discusses the benefits of pursuing a psychology degree and key steps to prepare for a job or graduate study in the field
Features brief topical contributions written by national figures in their respective subfields
Incorporates current data and research on diversity-related issues as well as guidance on how to ensure personality traits and abilities match the skills that potential career paths demand
Full Contents.
List of Boxes.
List of Tables.
Preface.
Acknowledgments.
Part I Majoring in Psychology.
1 Why Major in Psychology?
2 Succeeding in College.
3 Succeeding in the Psychology Major.
4 Assessing and Developing Career Goals.
5 Using Your Bachelor's Degree.
6 The Preprofessional Degree: Preparing for Graduate School.
7 The Preprofessional Degree: Applying to Graduate School.
Part II The Subfields of Psychology.
8 Careers in Research.
9 Careers in Industrial and Organizational Psychology.
10 Careers in Clinical Psychology and Counseling Psychology.
11 Careers in Educational and School Psychology.
12 Careers in Exercise and Sport Psychology.
13 Careers in Health Psychology.
14 Careers in Neuropsychology.
15 Careers in Forensic Psychology.
16 Careers in Academe.
17 Assessing the Career Outlook for the Psychology Major.
Appendix.
Index.
"Provides the most comprehensive text on majoring in psychology currently available Discusses the benefits of pursuing a psychology degree and key steps to prepare for a job or graduate study in the field." (Forbes.com, 29 October 2010)
"This book looks at all aspects of a psychology career from being an undergraduate major through the weighty choice of a career in neuropsychology and everything in between. This book would work well as a textbook for a career planning course or for an individual who is contemplating entering this field." (Suite101, August 2010)
* Provides the most comprehensive text on majoring in psychology currently available
* Discusses the benefits of pursuing a psychology degree and key steps to prepare for a job or graduate study in the field
* Features brief topical contributions written by national figures in their respective subfields
* Incorporates current data and research on diversity-related issues as well as guidance on how to ensure personality traits and abilities match the skills that potential career paths demand