Make It BIG!: 49 Secrets for Building a Life of Extreme Success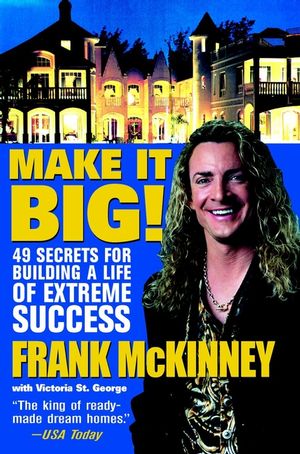 Make It BIG!: 49 Secrets for Building a Life of Extreme Success
ISBN: 978-0-471-44399-5
Jan 2002
304 pages
Description
PRAISE FOR
MAKE IT BIG!

""In the competitive world of ultra high-end residential real estate, Frank McKinney has managed to do what I've done with projects all over the world. His groundbreaking deals and brand-making attention to detail have enabled him to make it big within his chosen field. Read his book and learn how you too can become a great success.""
-- Donald J. Trump

""Frank McKinney is in the vanguard of . . . multimillion-dollar spec home builders.""
-- Fortune

""Frank McKinney has always liked to live on the edge ...he likes to live dangerously.""
-- The Wall Street Journal

""Frank is a real estate entrepreneur extraordinaire. The vision he applies in creating his estate homes will someday be legendary. Everyone should be interested in his compelling life story.""
-- George F. Valassis, founder/former CEO
Valassis Communications, Inc.

If you wish to enter the real estate profession, you will find much in these pages to help you. However, anyone can benefit from these 49 philosophies and learn from the examples Frank describes. The stories of succeeding against enormous odds, sacrificing personal comfort to put everything into your business, living according to your vision, putting in a full day's work day in and day out, contributing to others, and enjoying your life every moment, I believe can provide great inspiration no matter what your stage or status in life.
-- Rich De Vos, cofounder
Amway, excerpted from the Foreword
Acknowledgments.
Foreword by: Rich De Vos, Cofounder, Amway.
Introduction.
Part One: Have a Vision for Your Passion.
1. Recognize Your Highest Calling As Early As Possible in Life.
2. Know Where You ?re Going:Create a Personal Vision or Mission Statement.
3. Figure Yourself Out:Spend Time in Introspection.
4. Act with Integrity:Live Up to Your Own Idea of Who You Are.
5. Be Sensitive to Life ?s Lessons and Learn from Them.
6. Don ?t Compromise Your Beliefs or Person,Ever!
7. Each of Us Has Not Only a Professional Talent but a Spiritual One As Well. Find Yours and Apply It.
Part Two: Stake Your Territory: Create a Unique Brand for You and Your Life.
8. To Live an Extraordinary Life You Must Resist an Ordinary Approach.
9. Find and Fill a Niche?an Area That You Believe Is Missing in the Marketplace.
10. Apply True Focus to What You Do Best. Until You Are Ready, Do Not Be Distracted Outside Your Niche.
11. Have a Passion for What You Do,Both at Work and at Home.
12. Don ?t Let Others Deter Your Entrepreneurial Passion or Enthusiasm.
13. Learn from Highly Respected,Successful People What Makes Them Tick.
14. Once You Are Able to Love Yourself, Don?t Hesitate to Let Others Know.
15. Set Yourself Apart and Celebrate Your Individuality, Yet Include Humility.
Part Three: Take the ""Lunch Pail"" Approach While Answering Your Highest Calling.
16. Do Your Job,Do It Well,and Do It Every Day.
17. Persevere toward Your Ideal of Spiritual Fulfillment, Happiness, Dream, or Goal Each Day.
18. Proactively and Creatively Persist, Day In and Day Out.
19. Learn Something New Each Day and Forget the Lure of Pride. Ask Yourself, ""What Can I Do Better Today Than Yesterday?""
20. Sit on the Other Side of the Desk First.
21. Think Win-Win, Be Fair, Then Close the Deal.
22. Avoid Vices and Unhealthy Temptations As They Suck the Life Out of Progress and Success.
23. You Must Be Disciplined.Go to Bed Early and Get Up Early.
24. Organization Is the Key to Success.
Part Four: Take Risks. They?re the Difference between a $30,000 Fixer-Upper and a $30 Million Mansion Built on Speculation.
25. Gently Yet Often Exercise Your Risk Threshold like a Muscle. Eventually It Will Become Stronger and Able to Withstand Greater Pressure.
26. Never Gamble.Calculate the Maximum Amount of Risk You Feel You Can Afford to Take.
27. Trust in,and Act on,Your Initial Gut Feeling.
28. Make a Commitment to Yourself to Say Yes More Than No. Don?t Hesitate.
29. Be Prepared to Fail Before You Succeed.
30. Live in the Future instead of the Past?Use Imagination, Not Memory,When Making Decisions.
31. Celebrate Each Humble Victory as a Triumphant Achievement?Build Confidence.
Part Five: Make a Difference: Live a Life That Matters.
32. Many of Us Are Fortunate to Be Blessed with the Ability to Succeed?Not for Our Sole Benefit, but So We May Apply the Result of Our Success to Assist Others.
33. You Cannot Brighten Another?s Path without Lighting Your Own.
34. Be Honest and Truthful with Others As Well As Yourself.
35. When Your Conscience Speaks, You?d Better Listen.
36. Truly Feel What Compassion Is.
37. Give More Than You Receive.
38. Approach Life Knowing There Will Always Be Plenty to Go Around. Be Generous.
39. Leave an Enduring Legacy.
Part Six: Enjoy the Ride.
40. If We Are Fortunate, 97 Percent of Our Ordinary Life Is Spent Pursuing the Extraordinary 3 Percent. Enjoy the 97 Percent, and Recognize and Adore the 3 Percent as Extraordinary Golden Moments.
41. Take Time to Recharge Your Battery. You Won?t Get the Golden Egg without First Taking Care of the Goose.
42. Never Grow Up, and Consistently Renew.
43. Resist the Temptation to Act like an Adult. Never Lose the Little Girl or Boy Inside.
44. Fall in Love; Don?t Hesitate to Show Your Affection; Don?t Hesitate on Anything.
45. Approach Each Day with Flair.
46. Each Day You Are on the Concert Stage of Life, So You?d Better Make It Rock!
47. Laugh Often?and Make Sure You?re Able to Laugh at Yourself.
48. Live Your Life with No Regrets. When You Are Older, What Will You Say from Your Rocking Chair?
Part Seven: The Last Secret: There?s Always One More.
Index.