Make Millions Selling on QVC: Insider Secrets to Launching Your Product on Television and Transforming Your Business (and Life) Forever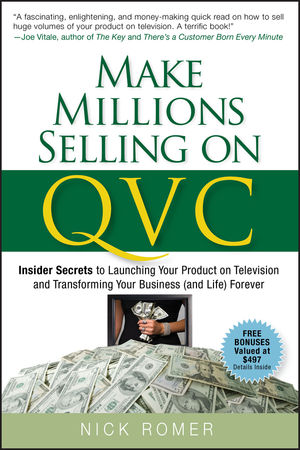 Make Millions Selling on QVC: Insider Secrets to Launching Your Product on Television and Transforming Your Business (and Life) Forever
ISBN: 978-1-118-03945-8
Dec 2010
144 pages
Description
Make Millions Selling on QVC is more than just a guide to getting you and your products in front of millions of potential customers; it's an inside look at how the largest television retailer in the world operates. The information and advice found throughout these pages will give you a distinct edge in this competitive business and allow you to exceed your professional expectations and enjoy the success you deserve.
Acknowledgments.
Introduction.
Chapter 1. How a Niche Product Generated $441,158.40 in Ten Minutes.
Chapter 2. The Home Shopping Phenomenon.
Chapter 3. How to Find or Create Hot Products.
Chapter 4. Be First and Fastest to Mass Market.
Chapter 5. How to Protect Your Product.
Chapter 6. How to Get On QVC.
Chapter 7. What QVC Looks For In a Product.
Chapter 8. Your First Meeting - Pitching Your Product for Acceptance.
Chapter 9. Your Product Has Been Accepted, Now What?
Chapter 10. How to Prepare For Your Big Moment on TV.
Chapter 11. A Day in the Life at QVC.
Chapter 12. The Most Important Word You Can Associate With Your Product.
Chapter 13. Getting Paid, Returns, Backorders and Surges.
Chapter 14. How to Add Easy Money to Your Bottom Line and Other Ways to DriveYour Success.
Chapter 15. Six Mistakes that Can Snap the Back of Your Business and How to Avoid Them.
Chapter 16. Open Doors to Greater Success.
Chapter 17. Beyond QVC – The Big Picture.
Final Thoughts.
Appendix A. Resource Directory.
Appendix B. Frequently Asked Questions.
Glossary.
About the Author.
Index.