Make Money with Flippers, Fixers, and Renovations, 2nd Edition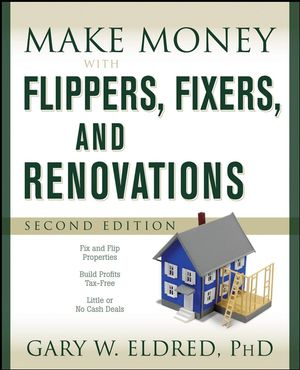 Make Money with Flippers, Fixers, and Renovations, 2nd Edition
ISBN: 978-0-470-18344-1
Apr 2008
264 pages
Product not available for purchase
Description
Make Money with Flippers, Fixers, and Renovations, Second Edition shows you how to turn decrepit properties in moneymakers. You?ll learn all the fundamentals, including how to fix and flip, create added value, outperform the competition, locate great deals, raise cash, and much more. Plus, this new edition reveals the best techniques for flipping new construction and finding pre-foreclosure properties for super-quick turnarounds. Long-term investors will find new strategies for creating value and managing properties.
1. Flip Fix, Renovate, Convert: Quick Paths to Profits.
Buying Right, Fixing, and Flipping Yield Great Profits in Any Market.
The Entrepreneurial Approach vs. the Traditional Approach.
The Browns Create Value in a Down Market.
My Awakening.
Unlimited Potential.
Multiple Ways to Profit.
Fix and Quick Flip.
Fix and Flip Slowly (Two Years).
Fix, Hold, Refinance.
Fix, Hold, Flip (Trade) Up.
The Home (or Neighborhood) You Can't Afford.
Vanquish Your Fears: Become an Entrepreneurial Investor.
Yes, You Need Skills.
My Promise.
2. Market Strategy Trumps Market Value.
Market Value Defined.
The Comparable Sales Approach.
The Market Value Conclusion.
Strengths of the Appraisal Process.
Common Denominator.
Disinterested Third Party.
Weaknesses of the Appraisal Process.
Rearview Mirror.
Narrow Focus.
The Appraisal Process Shuns Entrepreneurial Vision.
Summing Up the Appraisal Process.
You Need More Market Data.
3. Your Formula for Creating Value.
The Pieces of the Puzzle.
Minimum Improved Value (MIV).
Purchase Price.
Acquisition Costs.
Improvement Costs.
Financing Costs.
Other Holding Costs.
Selling Costs.
Opportunity Costs.
Oops Factor.
Income Taxes.
Profit Formula in Action.
Getting the Work Done.
Know Your Limits.
Distinguish the Personal from the Profitable.
Plan Your Project, Work Your Plan.
Secure Bids.
Secure Lien Releases.
Stay Legal: Obtain All Necessary Permits and Comply with All Zoning and Building Codes.
4. Make Regulations Work for You.
Sources of Regulations.
Governments.
Homeowners Associations.
Private Contracts Also Restrict Property Owners.
Zoning and Related Ordinances.
The District Concept.
What Types of Restrictions?
Be Wary of Nonconforming Uses.
How to Challenge the Zoning Rules.
Building Codes.
Environmental Laws.
5. What Possibilities Can You Envision?
The Copleys Make Half a Million.
The Baglivis Discover a Bargain.
Put on Your Rose-Colored Glasses.
Don't Quickly Reject a "Fixer"—You Just Might Pass Up a Bargain.
Your Second Set of Glasses (Buyer's Eyes).
The Critical Balance.
Inspecting a Site for Its Potential.
Site Size and Configuration.
Site Quality.
Fences, Driveway, and Sidewalks.
Curb Appeal: Attending to the Details.
The Outside of the House.
Appearance.
Exterior Condition: The Professional Inspection
Materials and Maintenance.
Site Placement.
6. Enhance the Interior.
Question Square Footage Figures.
Watch Out for Errors of Measurement.
All Space Doesn't Count Equally.
Make Sure All Like Space Does Count Equally.
Floor Plan: Does the Layout of the House Work?
Livability.
Target Market.
Aesthetics: How Does the House Look, Feel, and Sound?
Create Emotional Appeal.
Check Noise Levels.
Clean Thoroughly.
Condition: How Much Time, Effort, and Money Will the Property Require?
Legal Compliance.
Estimating Costs of Repairs and Improvements.
Utility Bills (Energy Efficiency).
What Utilities Are Available?
Identify Ways to Reduce the Utility Bills.
Save on Property Taxes.
Save on Property Insurance.
Enhance the Safety and Security of Residents.
Special-Purpose Uses.
7. Add More Living Space.
Work the Numbers.
Attic, Garage, and Basement Conversions.
Target Market Needs.
Aesthetics.
Integrate the Conversion into the House.
Create an Accessory Apartment.
The Zoning Obstacle.
The Mortgage Helper.
What Type of House Works Best?
8. Revitalize the Neighborhood.
Neighborhoods Can Get Better.
Entrepreneurs Improve Thorton Park (and Make a Killing).
Every Neighborhood Has Potential.
Community Action and Community Spirit Make a Difference.
Become a Neighborhood Entrepreneur.
Boost Neighborhood Convenience and Accessibility.
Improve Appearances and Aesthetics.
Zoning and Building Regulations.
Eliminate Neighborhood Nuisances.
Invoke Your Local Ordinances, Deed Restrictions, or HOA Rules.
Sue in Small Claims Court.
Upgrade the Schools.
Safety and Security.
Petition the Politicians.
Add Luster to Your Image.
Accent Something Special.
Talk Up the Neighborhood.
Get the Banks Involved (Affordability).
Buy on the Bad News.
9. Market Your Property for Top Dollar.
Whom Do You Want to Reach?
Why So Many Questions?
Sell Benefits, Not Just the Property.
Sell the Sizzle.
Crafting a Newspaper Ad.
Prepare a Property Brochure or Flyer.
Make Your Sign Stand Out.
Sell with Honesty.
Sell the Property, Don't Just Show It.
Prepare to Sell the Property.
Not an Isolated Case.
Sales Success: Your 12-Step Program.
More Tips on Financing.
Avoid Deception.
Back to Financing.
Should You Employ a Realty Agent?
Co-op Sales.
What about Lawyers?
10. Buy Your Property.
Find Good Properties.
Real Estate Agents.
Newspapers.
Drive, Bike, or Run Neighborhoods.
Networking.
Foreclosures and REOs.
The World Wide Web.
Search for Agreement.
Deal Points.
Reduce Seller Anxiety.
Win-Win Isn't for Wimps.
Develop a Cooperative Attitude.
Learn as Much as You Can about the Sellers.
A Win-Win Example.
How to Bargain for a Low Price.
Don't Compromise, Conciliate.
Learn the Sellers' Reasons and Reference Points.
Use an Agent as an Intermediary, but Negotiate for Yourself.
The Deal's Not Over 'til It's Over.
11. Easy Money for Owner-Occupants.
Owner-Occupied Financing.
Passable Credit.
Attention Current Homeowners.
FHA 203(k): The Homebuyer's Best Choice for Financing.
Owner-Occupied Purchase Loans.
Owner-Occupied Assumptions.
12. Money for Anyone.
"Subject to" versus Mortgage Assumptions.
Is this Technique Legal?
Should You Worry?
Short Term, Not Long Term.
Risks to Sellers.
Your Borrowing Strategy.
Seller-Assisted Financing.
First Mortgage or Deed of Trust.
Buy on the Installment Plan.
Lease Option a Property.
Lease Purchase Agreements versus Lease Purchase Options.
Easy Money—Hard Terms.
Predatory Lending.
Why Would You Want to Deal with an "Easy‑Money" Lender?
The Optimistic Entrepreneur.
Where to Find This Easy Money.
Cash to Close.
Personal Savings.
Sell Unnecessary Assets.
Obtain a Home Equity Loan (or Downsize the House) and Free Up Investment Capital.
Bring in Partners.
Second Mortgages.
Cash Advances.
Index (Not Included).