Make Your First Million: Ditch the 9-5 and Start the Business of Your Dreams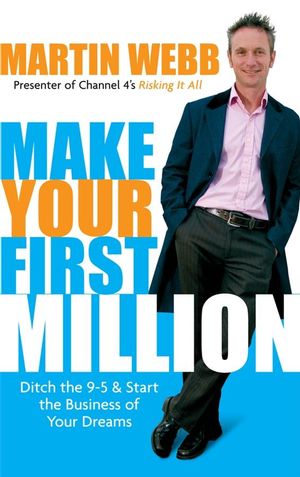 Make Your First Million: Ditch the 9-5 and Start the Business of Your Dreams
ISBN: 978-1-841-12761-3
Aug 2007, Capstone
192 pages
Description
Thinking of starting your own business? You've come to the right place. Thousands of people take the plunge every year for thousands of different reasons; the lifestyle, the opportunity to start over again, the chance to make serious money. No one ever got rich lining their boss's pockets. So you really want to go it alone? Here's how. Make Your First Million shows you how to set up your business the right way. It covers business plans, raising finance, financial planning, the opening days, working capital, growing your business, premises, staff, branching out, preparing for exit, and much, much more.

As presenter of Channel 4's Risking it All, serial entrepreneur Martin Webb has guided many fledgling businesses through the start-up process. His advice, tips and insider secrets will help you transform your dream into reality. Why spend your life working for the man when you could be out there making your first million?
Prologue: The false start.
Part 1.
1 Introduction.
2 Starting again.
3 Putting the idea into practice.
4 The opening days.
5 Building on success.
6 Branching out and preparing to exit.
7 And in conclusion.
Part 2.
Appendix: The Entrepreneur's Toolkit.
Item 1 The General Business Model and Working Capital.
Item 2 Risk Assessment.
Item 3 Getting the Start up Money.
Item 4 Drawing up the first rough financial plan.
Item 5 The decision to lease premises or buy them.
Item 6 Drawing up a detailed business plan.
Item 7 The formal documentation of staff appraisal.
Index.
""The book contains a lot of advice for those with ambitious growth plans in mind."" (
Growing Business,
June 2007)
""As a highly readable primer in the art of making a success of a start-up it takes some beating.""  ( Better Business, June 2007)
""...a refreshing and enjoyable read.""  (Edge, November 2007)