Making Cities Work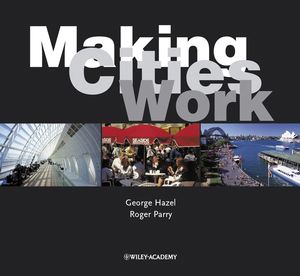 Making Cities Work
ISBN: 978-0-470-84681-0
Feb 2004
192 pages
Description
Making Cities Work examines the characteristics that make cities pleasant and practical places to live and work. Featuring 30 individual case studies which focus on getting to, enjoying, and moving around a city, this beautifully illustrated book is an ideal reference for city and urban planners as well as transport planners and executives. You'll find:
A case study illustrating arriving in an ancient city, Venice, as well as modern examples of this from Gardemoen Airport, Oslo; TGV Stations, Avignon, Valence, Aix; Chep Lap Kok, Hong Kong; and more.
A case study illustrating enjoying an ancient city with modern examples of this classic response to the needs of a city. These include Marbella Old Town; South Bank, Brisbane; Copenhagen City Centre; and more.
A case study illustrating moving around an ancient city and modern examples of this from Greenways, Edinburgh; Street Car/MAX, Portland, Oregon; Ultra, Cardiff; and more.
In addition, the book identifies "urban heroes," those individuals who have led particularly successful projects in urban improvement throughout the world. Order your copy of this practical work today.
Introduction.
VENICE – THE CLASSIC CASE STUDY.
ARRIVING IN THE CITY.
Gardermoen Airport, Oslo, Norway.
The New TGV Méditerranée Stations, France.
Chep Lap Kok Airport, Hong Kong.
Translink Interchange, Bangor/Belfast, Northern Ireland.
Nils Ericson Bus Station, Gothenburg, Sweden.
Grand Central Station, New York, USA.
Yokohama Ferry Terminal, Japan.
Salamanca Train Station, Spain.
ENJOYING THE CITY.
Marbella Old Town, Spain.
The South Bank, Brisbane, Australia.
Copenhagen Squares and Spaces, Denmark.
Faneuil Hall Marketplace, Boston, USA.
Toronto Malls, Canada.
Wall Murals, South Africa.
New Rondas, New Ramblas, Barcelona, Spain.
Circular Quay and The Rocks, Sydney, Australia.
Vancouver Downtown, Canada.
Public Realm, Glasgow, Scotland.
Post Office Park, Boston, USA.
GETTING AROUND THE CITY.
Edinburgh's Greenways, Scotland.
Bristol – The Legible City, England.
Cycling in Rennes, France and Groningen, The Netherlands.
Curitiba, Brazil.
The Strasbourg LRT, France.
The Portland Streetcar, Oregon, USA.
The Brisbane Busway, Australia.
Singapore Road Pricing, Singapore.
The ULTra System, Cardiff, Wales.
CONCLUSION.
URBAN HEROS.
BIBLIOGRAPHY, USEFUL WEBSITES, PHOTO CREDITS.
"…food for thought….lavishly illustrated…" (Surveyor, February 2004)
"…both visual and informative, packed with facts, concepts and design innovation…" (Media Week, 18 May 2004) 
"…a feel good book about feel good architecture…the photographs draw the reader in…many and varied examples…highly recommended…" (Building Engineer, July 04)
"…of particular interest to planners and those working in the fields of social development and urban infrastructure…" (Perspective, July 04)
"…beautifully illustrated…superb photography…will inspire you…" (Accounting & Business, July 04)
"…a colourful and accessible guide to good practice in urban design …an enjoyable and educational read..." (Regeneration & Renewal, 22 October 04)
"…well illustrated…this book could act as a catalyst…" (Urban Design, August 2006)