Making Critical Decisions: A Practical Guide for Nonprofit Organizations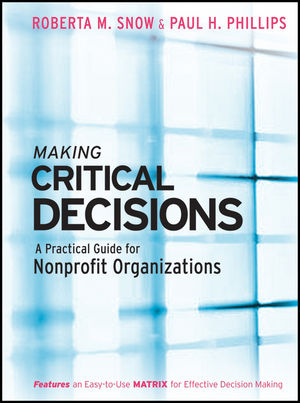 Making Critical Decisions: A Practical Guide for Nonprofit Organizations
ISBN: 978-1-119-11651-6
Nov 2007, Jossey-Bass
250 pages
Product not available for purchase
Description
Roberta Snow and Paul Phillips present a clear and structured way to manage the challenges of limited resources, competing demands, and the need for accountability while remaining true to a nonprofit's mission.  Making Critical Decisions offers nonprofit leaders a proven model for making hard choices that minimize risks while maintaining progress toward the organization's goals as well as a practical framework for understanding and implementing the decision-making process. The book includes qualitative and quantitative tools and offers illustrative case examples throughout that clearly show how this method can be applied to different types of nonprofit organizations.
List of Tables and Exhibits.
Acknowledgments.
The Authors.
Introduction.
PART ONE: ABOUT DECISION MAKING.
1. The Art and Science of Decision Making: Putting Theory into Practice.
What Works.
What Doesn't Work.
Reacting Versus Responding.
Responding Versus Reacting.
2. Borrowing from Business: Due Diligence in Decision Making.
What Investors Do.
Defining Due Diligence.
Staging Implementation to Reduce Risk.
A Consistent Approach to Critical Decisions.
3. Managing Critical Decisions: The Who, What, and How.
Who Decides.
What Choices.
How Do You Put It All Together.
4. Enter the Matrix: Introducing an Effective Tool.
The Matrix: Framing the Decision.
The Rows: Weighting the Due Diligence Criteria.
The Columns: Scoring the Due Diligence Criteria.
Using the Matrix for Binary Decisions.
Using the Matrix for Choices Among Similar Options.
Using the Matrix for Choices Among Dissimilar Options.
PART TWO: MAKING CRITICAL DECISIONS.
5. Stage One: Feasibility.
The Seductive Nature of New Ideas.
Common Feasibility Decisions.
The Feasibility Matrix.
6. Stage Two: Pilot.
Piloting the Feasible Decision.
Designing the Pilot Project.
The Pilot Matrix.
7. Stage Three: Implementation.
From Pilot to Implementation.
A Good Implementation Plan.
The Implementation Matrix.
8. Stage Four: Cutback.
Dimensions of Cutting Back.
The Cutback Matrix.
9. Putting the Matrix to Work.
Boards of Directors.
Executive Directors.
Managers.
Funders.
Consultants.
10. The Decision-Making Guide.
Assessing the Decision.
Working Through the Matrix.
Appendix: Staff Renewal Decisions.
Notes.
Further Reading.
Index.
Provides an overall method for making hard choices that minimizes risks while maintaining progress toward the group's goals

Outlines a model for understanding the opportunities, costs and risks associated with introducing or expanding projects and programs

Contains qualitative and quantitative tools for implementing the authors' recommended methodology
Download the Adaptable Matrix Template that Accompanies the Book


Download the Adaptable Matrix Template in XLS (Microsoft Excel) Format.

Download