Making Groups Effective, 2nd Edition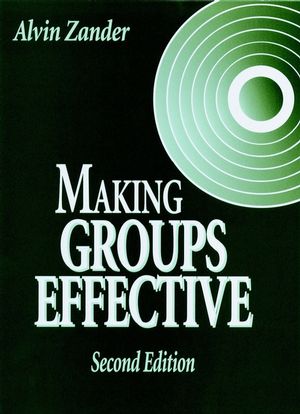 Making Groups Effective, 2nd Edition
ISBN: 978-0-787-90009-0
Aug 1994, Jossey-Bass
261 pages
Description
Draws on the latest research to show how groups can function more effectively to achieve the full potential of group work. For leaders and group supervisors as well as members of teams, boards, task forces, and other groups. Offers a clear vision of what makes groups work.

This recently revised edition of the classic 1982 work focuses on the business priorities of the '90s to offer a clear vision of what makes groups work. Draws on the latest research to show leaders, group supervisor and team members how groups should function in order to reach their full potential.
1. Introduction: What Makes a Group Effective?
Part One: Effective Groups
2. Choosing Clear, Challenging, Measurable Goals
3. Strengthening the Desire for Group Success
4. Improving the Group Decision-Making Process
5. Communicating Effectively Among Colleagues
6. Establishing Standards That Support Group Customs, Goals, and Values
7. Fostering Harmony Among Members
Part Two: Effective Group Members
8. Developing and Exercising Personal Power
9. Becoming an Agent of Influence
10. Responding to the Influence of Others
Part Three: Working Effectively with Other Groups
11. Understanding the Origins of Intergroup Conflicts
12. Resolving Conflicts Between Groups
13. Conclusion: Evaluating and Improving Group Operations
"Zander's authority is established and highly respected... the book is well-written and readable."