Making Hostile Words Harmless: A Guide to the Power of Positive Speaking For Helping Professionals and Their Clients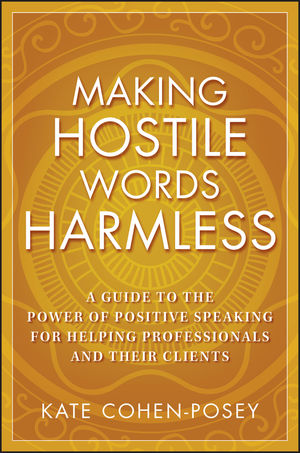 Making Hostile Words Harmless: A Guide to the Power of Positive Speaking For Helping Professionals and Their Clients
ISBN: 978-0-470-29257-0 July 2008 208 Pages
Description
Infused with wisdom and a strong dose of humor, Making Hostile Words Harmless offers therapists and their clients a unique collection of effective exercises and bully-busting responses guaranteed to diffuse difficult exchanges. Filled with helpful tools, the book uses the martial art of Aikido, or the 'way of harmony' to teach the 'verbal arts' of confirming, inquiring, understanding, and evoking.
Table of contents
Chapter 1. Difficult People and the Art of Aikidō.
The Martial Arts—East Does Not Meet West.
Verbal Arts; Instinctual Reactions.
Turning The Spotlight.
Response vs. Reaction.
Chapter 2. Acting As If—The Art Of Confirming.
The Art of Agreement.
Speak It As You Want It.
Counting on Compliments.
Drama Is Worth a Thousand Words.
Reverse Resistance with Psychology.
Exercise; All Purpose Confirmations.
Chapter 3. Asking Questions—The Art Of Inquiry.
Dialogues.
Pseudo Questions.
Asking Questions to Avoid Assumptions.
Asking Hidden Questions to Promote Contemplation.
The Spotlight Effect.
Asking Questions to Prevent Prying.
Asking Questions to Evoke Inquiry.
Asking Questions that Give People a False Choice.
Asking Questions that Predict Success.
Exercise; All Purpose Questions.
Chapter 4. Active Listening—The Art Of Understanding.
How Listening Became "Active;".
Obedient Listening.
The Amazing Mirror Mind.
Therapeutic Triangles—Reflect Harsh Words Away from Targets.
Narrating Behavior and Diction.
Naming the Game.
Filial Therapy Narrations.
Refinement of Active Listening.
Active Listening Add-ons.
Active Listening for Empowerment..
Exercise.
The Advantages of Active Listening.
Chapter 5. Hypnosis & Humor—The Art Of Evoking.
Modern Hypnotherapy.
Hypnotic Basics in the Verbal Arts.
Advanced Hypnotic Patterns.
Exercise.
The Comedy Connection.
Chapter 6. Taking a Stand by Opposing.
The I-Position.
Taking a Stand Effortlessly.
Disagreeing Effortlessly.
Handling a Backlash.
Buber Takes a Stand.
Chapter 7. Teaching Positive Speaking To Clients.
Positive Speaking Training Steps.
Aikidō Cross Training.
Positive Speaking for Inter-Personal Issues.
Interference from Inner Bullies.
The Limits of Positive Speaking.
The Goals of Positive Speaking.
Maintaining Balance with "High Wire Families".
Chapter 8. Workshops on Positive Speaking.
Possible Titles.
Program Description.
Learning Objectives.
Materials.
Scripted Program Outline.
Quiz.
Feedback Form.
Handout.
Quiz Answers.
Appendix I. Verbal Arts Terms.
Appendix II. All Purpose, One-Liners.
Appendix III. Psychotherapy Approaches Referenced in this Text.
References.
Index.