Making Knowledge: Explorations of the Indissoluble Relation between Mind, Body and Environment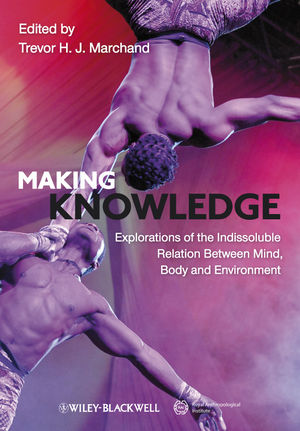 Making Knowledge: Explorations of the Indissoluble Relation between Mind, Body and Environment
ISBN: 978-1-444-39148-0 May 2011 Wiley-Blackwell 216 Pages
Description
Making Knowledge
presents the work of leading anthropologists who promote pioneering approaches to understanding the nature and social constitution of human knowledge. The book offers a progressive interdisciplinary approach to the subject and covers a rich and diverse ethnography.
Presents cutting-edge research and theory in anthropology

Includes many beautiful illustrations throughout

The contributions cover a rich and diverse ethnography

Offers a progressive interdisciplinary approach to the eternal questions concerning 'human knowledge'

Contributions by leading scholars in the field who explore a wide range of disciplines through an anthropological perspective
Table of contents
Notes on contributors.
Preface.
Trevor H.J. Marchand: Introduction: Making knowledge: explorations of the indissoluble relation between mind, body, and environment.
1 Greg Downey: 'Practice without theory': a neuroanthropological perspective on embodied learning.
2 Tom Rice: Learning to listen: auscultation and the transmission of auditory knowledge.
3 Anna Odland Portisch: The craft of skilful learning: Kazakh women's everyday craft practices in western Mongolia.
4 Nicolette Makovicky: 'Something to talk about': notation and knowledge-making among Central Slovak lace-makers.
5 Trevor H.J. Marchand: Embodied cognition and communication: studies with British fine woodworkers.
6 Tim Ingold: Footprints through the weather-world: walking, breathing, knowing.
7 Konstantinos Retsikas: Unconscious culture and conscious nature: exploring East Javanese conceptions of the person through Bourdieu's lens.
8 Soumhya Venkatesan: Learning to weave; weaving to learn ... what?
9 Roy Dilley: Reflections on knowledge practices and the problem of ignorance.
10 Emma Cohen: Anthropology of knowledge.
Index.
Reviews
"Indeed I have used Making Knowledgein a graduate seminar, and it made for stimulating, productive discussion."  (Ethos, 1 February 2013)