Making Marriage Work For Dummies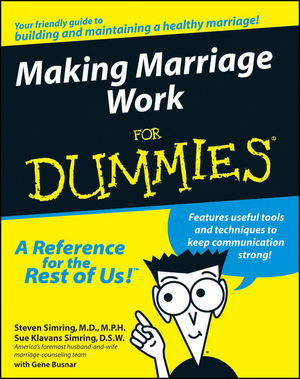 Making Marriage Work For Dummies
ISBN: 978-1-118-06919-6 April 2011 384 Pages
Download Product Flyer
Download Product Flyer
Download Product Flyer is to download PDF in new tab. This is a dummy description. Download Product Flyer is to download PDF in new tab. This is a dummy description. Download Product Flyer is to download PDF in new tab. This is a dummy description. Download Product Flyer is to download PDF in new tab. This is a dummy description.
Description
The inspiration for countless one-liners, witty sayings, stage farces and not a few murder mysteries, marriage is more than just a relationship between two people. It's  one of life's biggest adventures and a healthy marriage can be one of life's greatest gifts. But weathering the stresses and strains of married life and maintaining healthy marital bonds over a span of decades takes work, and sometimes you need help from a friendly expert. Which is where
Making Marriage Work For Dummies
comes in.
Drawing on their experiences with thirty years of marriage, during which they raised three children, as well as decades of couples counseling, experts Steven and Sue Simring show you how to build a strong, happy and long-lasting marriage. They offer priceless tips on how to deal with most problems that come up between married couples, and they offer advice on how to:
Make your relationship more romantic
Work out big and small differences
Argue in ways that strengthen you relationship
Resolve disputes over money
Cope with mid-life change
Handle a spouse who cheats
Deal with families and in-laws
Reduce stress on your marriage
Understand your partner's annoying habits and quirks
Balance career and family goals
Seek professional help when you need it
Illustrating their points with insightful, often amusing anecdotes from their own marriage and from the marriages of hundreds of couples they've counseled over the years, the Simrings explore such crucial topics as:
Deciding if marriage is right for you
Six common marriage myths
Understanding the roots of marital problems
Communicating with your partner
The do's and don'ts of fair marital fighting
Making marriage sexy
Examining the marriage life cycle
Ideas for resolving money differences
Succeeding with remarriage
Filled with ideas you can use now to keep your marriage as strong as the day you took your vows, this is a survival guide for everyone committed to making marriage work.
Table of contents
Foreword.

Introduction.

PART I: What It Means To Say "I Do!".

Chapter 1: Taking a Candid Look at Marriage.

Chapter 2: The Five Building Blocks of a Working Marriage.

PART II: Can We Talk?

Chapter 3: Understanding the Roots of Marital Problems.

Chapter 4: Communicating with Your Partner.

Chapter 5: Fighting the Fair Way.

PART III: Making Marriage Sexy.

Chapter 6: Developing a Great Sex Life.

Chapter 7: When Sex Falters.

PART IV: Examining the Marriage Life Cycle.

Chapter 8: The First Years of Marriage.

Chapter 9: The Growing Family.

Chapter 10: Women and Men at Midlife.

Chapter 11: Making the Most of Marriage at Midlife.

Chapter 12: Remarriage and Stepfamilies.

PART V: Maintaining a Healthy Marriage.

Chapter 13: Reducing the Stress on Your Marriage.

Chapter 14: Exploring the Role of Money in Marriage.

Chapter 15: Examining Extramarital Affairs -- and Knowing What to Do about Them.

Chapter 16: Getting Outside Help.

Chapter 17: Understanding Divorce and Its Alternatives.

PART VI: The Part of Tens.

Chapter 18: Ten Ways to Make Your Marriage More Romantic.

Chapter 19: Ten Things You Should Never Say to Your Partner.

Chapter 20: Ten Ways To Have a Fair Fight.

Chapter 21: Ten Signs That Your Marriage Is in Trouble.

Chapter 22: Ten Ways to Have a More Exciting Sex Life.

Appendix A: References.

Appendix B: Resources.

Index.

Book Registration Information.