Making Research Work: Promoting Child Care Policy and Practice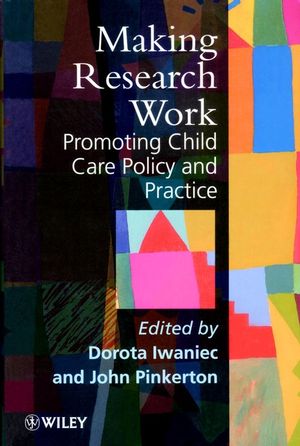 Making Research Work: Promoting Child Care Policy and Practice
ISBN: 978-0-471-97952-4 November 1998 308 Pages
Description
Making Research Work demonstrates how research can be fostered andapplied more effectively to child care policy and practice. Drawingon a wealth of experience, current literature and governmentdocuments, the contributors present a comprehensive discussion ofkey contemporary issues relating to child care research.Recommendations are given for recognising and responding to boththe fundamental and the specialist issues that challenge thevarious stages of the research process. Practical guidelines aregiven for
* undertaking single-case design research

* appraising current child care literature and officialstatistics

* accessing hidden or hard-to-reach populations
* dissemination

* establishing a research centre

* preparing a research proposal to submit to a funding body

* commissioning and funding research
This book s practical approach and unique focus will appeal topractitioners, researchers, policy makers and students seeking tounderstand and enhance the relationship of research to policy andpractice in the child care context.
THE RELATIONSHIP OF RESEARCH TO POLICY AND PRACTICE.
Research and Development Strategies in the National Health Serviceand Personal Social Services in the United Kingdom (D.Iwaniec).
The Impact of Research on Policy and Practice: A SystemicPerspective (J. Pinkerton). The Influence of Research on Child CarePolicy and Practice: The Case of 'Children Who Wait' and theDevelopment of the Permanence Movement in the United Kingdom (G.Kelly).
CHILD CARE RESEARCH: SOME CHALLENGING CONTEMPORARYDEVELOPMENTS.
Evidencing Effectiveness: The Use of Single-Case Designs in ChildCare Work (K. Dillenburger).
Literature Reviewing: Towards a More Rigorous Approach (K. HigginsJ. Pinkerton).
The Importance of and Difficulties with Official Statistics: A CaseStudy of Child Care Data (V. Switzer).
Researching Hidden Populations(K. Higgins).
Child Participatory Research: Ethical and MethodologicalConsiderations (C. McAuley).
Developing a Strategy for Disseminating Research Findings (M.Monteith).
PROMOTING AND SECURING A BASIS FOR RESEARCH.
Preparing a Research Proposal for Funding Purposes (P.McCrystal).
Commissioning Research (M. Monteith).
Who and How to Approach Regarding Research Sponsoring (P.McCrystal).
Promoting Research Through the Establishment of Research Centres(D. Iwaniec).
Index.