Making Sense As a School Leader: Persisting Questions, Creative Opportunities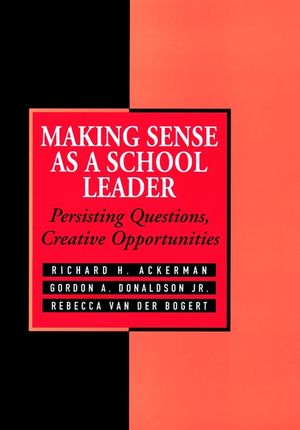 Making Sense As a School Leader: Persisting Questions, Creative Opportunities
ISBN: 978-0-787-90164-6
Oct 1995, Jossey-Bass
224 pages
Description
"A real contribution to an over-discussed subject.... This book reaches below the surface to the real issues and relationships that confront principles in their orchestration of the daily affairs of teachers, parents, and students."

--Harold Howe II, former president of the Ford Foundation for Education and Public Policy

Based on the work of the prestigious Harvard Principal's Center, this book shares some of the "sense" that practicing principals have made of their own complex experiences. The authors offer real-life case examples of typical leadership dilemmas in such areas as student discipline, teacher assessment, fiscal management, parental involvement, and schoolwide planning.
Foreword.

Leadership as a Quest.

Justice: Doing What's Right..But What Is Right?

Teaching: Promoting Effective Teaching and Valuing Each Teacher.

Purpose: Process or Product?

Resources: Balancing Infinite Needs and Finite Resources.

Change: Fostering Change and Respecting the Individual.

Ownership: Weaving Diverse Interests into Mutual Purpose.

Autonomy: Encouraging Creativity and Preserving Community.

Trusting in Community.

Trusting in Yourself.
"A real contribution to an over-discussed subject...This book reaches below the surface to the real issues and relationships that confront principals in their orchestration of the daily affairs of teachers, parents, and students." (Harold Howe II, former president of the Ford Foundation for Education and Public Policy)