Making Sense of Media: Key Texts in Media and Cultural Studies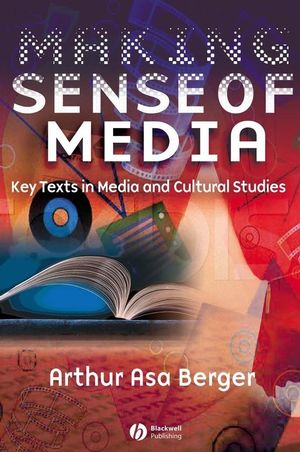 Making Sense of Media: Key Texts in Media and Cultural Studies
ISBN: 978-1-405-12017-3 October 2004 Wiley-Blackwell 206 Pages
Description
Making Sense of Media is a lively and accessible text that helps readers understand mass media and the texts they carry. Designed expressly for those interested in gaining a solid understanding of the media and how they work, it is an indispensable book.

Offers a lively, accessible, and concise textbook to help readers understand mass media and their texts
Covers seminal figures, concepts and scholarship in mass media studies, including Vladimir Propp, Mikhail Bakhtin, Raymond Williams, Fredric Jameson, and Stuart Hall
Explores the ideas found in nineteen significant books that will provide useful insights and concepts for anyone interested in the study of the media
Features chapter-by-chapter short articles by the author, that address an idea or theory in the particular book being discussed
Includes charts, boxes features, exercises, and illustrations to round out analyses and engage the beginning student
Acknowledgments.
Introduction: The Media in Our Lives:.
1. Saussure, Course in General Linguistics:.
In Practice: King Andrew the First.
2. Roland Barthes, Mythologies:.
In Practice: A Semiotic Analysis of a Sea Shell.
3. George Lakoff and Mark Johnson, Metaphors We Live By:.
In Practice: Love is a Game.
4. Aristotle, Poetics:.
In Practice: Theories on Comedy.
5. Tzvetan Todorov, Introduction to Poetics:.
In Practice: What Happens in Hamlet.
6. Vladimir Propp, Morphology of the Folktale:.
In Practice: Understanding Genres.
7. Janice Radway, Reading the Romance:.
In Practice: Write Your Own Romance Novel.
8. Janet Murray, Hamlet on the Holodeck:.
In Practice: Hypotheses on Pac-Man and Video Games.
9. Mikhail Bakhtin, The Dialogic Imagination:.
In Practice: Parody and Laughter.
10. Yuri Lotman, Semiotics of Cinema:.
In Practice: The "1984" Macintosh Commercial.
11. Sergei Eisenstein, Film Form:.
In Practice: Rashomontage.
12. Raymond Williams, Marxism and Literature:.
In Practice: The Prisoner and "The General".
13. Henri Lefebvre, Everyday Life in the Modern World:.
In Practice: Cells and Terror.
14. De Certeau, The Practice of Everyday Life:.
In Practice: Resistance Through Ridicule.
15. Marshall McLuhan, Understanding Media:.
In Practice: The Financial Times.
16. Fredric Jameson, Postmodernism or The Cultural Logic of Late Capitalism:.
In Practice: A Postmodern Perspective on Madonna.
17. Michael Thompson, Richard Ellis, Aaron Wildavksy, Cultural Theory:.
In Practice: Political Cultures and Popular Culture.
18. bell hooks, Black Looks: Race and Representation:.
In Practice: Krazy Kat and "Racial" Memory.
19. Stuart Hall, "The Work of Representation":.
In Practice: 9/11 as Representation.
20. Afterword: A Confessional:.
Bibliography.
Index
"Arthur Asa Berger has taken a refreshingly creative approach to introducing ideas central to analyses of media and popular culture. This delightful book will not only enliven courses in media studies, but also prime students to read more of the seminal texts defining one of the most vibrant areas of the communication field."
William H. Dutton, University of Oxford
"Reading this book is like going through a museum with a master critic and collector. Berger's compelling and witty essay opens the door to great thinkers and scholars, some from the distant past, some quite contemporary. There is no other book with a broader perspective that truly makes its readers stretch, though the process is always enjoyable." Everette E. Dennis, Fordham University
Offers a lively, accessible, and concise textbook to help readers understand mass media and their texts
Covers seminal figures, concepts and scholarship in mass media studies, including Vladimir Propp, Mikhail Bakhtin, Raymond Williams, Fredric Jameson, and Stuart Hall
Explores the ideas found in nineteen significant books that will provide useful insights and concepts for anyone interested in the study of the media
Features chapter-by-chapter short articles by the author, that address an idea or theory in the particular book being discussed
Includes charts, boxes features, exercises, and illustrations to round out analyses and engage the beginning student