Making Sense of Men's Magazines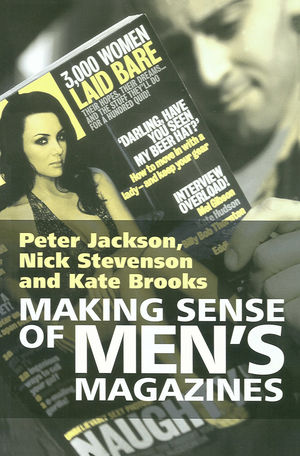 Making Sense of Men's Magazines
ISBN: 978-0-745-62175-3
Oct 2001, Polity
224 pages
Description
The last decade has witnessed the phenomenal growth of the men's magazine market, raising important questions of a more general kind. What is the significance of the rise of men's lifestyle magazines for gender politics? Are we witnessing a backlash against feminism or are they merely harmless fun? Why did lsquo;new man' give way to the lsquo;new lad'? What political issues do these questions raise within the context of the information society?


Making Sense of Men's Magazines is an original study which enables us to understand the appeal of men's magazines, the ways in which they are constructed and understood, and many of the complex questions they raise for both men and women. Through interviews with editors and key production staff, an analysis of the content of men's magazines and focus group interviews, this work seeks to lsquo;make sense' of this cultural phenomenon. The authors give particular attention to the gendered and commercial character of men's magazines, and the implications they have for the way we understand capitalism, masculinity and consumption in the modern world.


This book makes a major contribution to understanding the role of magazines in contemporary culture and will be essential reading for students of sociology, media and cultural studies and gender studies.
Acknowledgements.
1 Introduction.
Reading Magazines.
Theorizing Masculinities.
Consumption, the Media and Audience Studies.
2 The Media and the Market.
The Magazine Market.
Contemporary Media Debates.
Conclusion: the Instability of Hegemonic Masculinities.
3 Editorial Work.
Magazines and Cultural Power.
Interviewing the Editors.
Editorial Insecurities.
Commercial Imperatives Versus Editorial freedom.
The 'Necessary Evil' of Advertising.
Responding to the Market or Creating a Niche?.
Sexy or Pornographic?.
4 Questions of Content.
Boys Love Their Girls.
Don't You Want Me?.
Lexicons of Love or Operator's Manual?.
Consumption and the Sociology of the Body.
Men's Health Magazines, Anxiety and the Body.
Irony and the Cultural Politics of Masculinity.
5 Readings.
Discourses and Dispositions.
Discursive Repertoires.
Constructed Certitude.
Discursive Dispositions.
Cultural Capital.
An Ambivalent Space.
6 Conclusion.
Mediated Cultural Power.
Masculinity and Contemporary Gender Relations.
Commercial Culture.
Appendices.
Notes.
References.
Index.
"The authors shy away from one-dimensional arguments of ideology, hegemony, and resistance to provide a more nuanced argument based on ambiguity, ambivalence, and contradiction ...
Making Sense of Men's Magaines
is clearly written and presented. As such it represents an attractive option for course adoptations on both sides of the Atlantic..."
American Journal of Sociology
"[A] creative and informative study." Transactions of the British Geographers


A clearly written and comprehensive account of the extraordinary rise of men's magazines


Draws on original research based on interviews with magazine staff and with readers


A major contribution to the understanding of the role of men's magazines in contemporary lifestyle culture.