Making Sense of the Dollar: Exposing Dangerous Myths about Trade and Foreign Exchange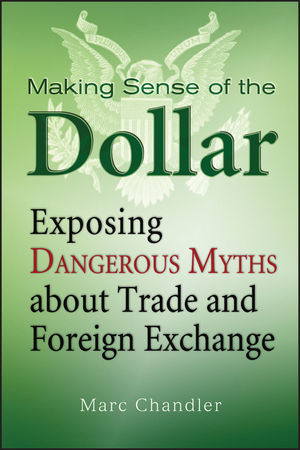 Making Sense of the Dollar: Exposing Dangerous Myths about Trade and Foreign Exchange
ISBN: 978-1-576-60321-5
Aug 2009
240 pages
Description
Has the greenback really lost its preeminent place in the world? Not according to currency expert Marc Chandler, who explains why so many are—wrongly—pessimistic about both the dollar and the U.S. economy.  

Making Sense of the Dollar explores the many factors—trade deficits, the dollar's role in the world, globalization, capitalism, and more—that affect the dollar and the U.S. economy and lead to the inescapable conclusion that both are much stronger than many people suppose.  

Marc Chandler has been covering the global capital markets for twenty years as a foreign exchange strategist for several Wall Street firms. He is one of the most widely respected and quoted currency experts today.
Acknowledgments.
Introduction.
1 Myth 1: The Trade Deficit Reflects U.S. Competitiveness.
2 Myth 2: The Current Account Deficit Drives the Dollar.
3 Myth 3: You Can't Have Too Much Money.
4 Myth 4: Labor Market Flexibility Is the Key to U.S. Economic Prowess.
5 Myth 5: There Is One Type of Capitalism.
6 Myth 6: The Dollar's Privileged Place in the World Is Lost.
7 Myth 7: Globalization Destroyed American Industry.
8 Myth 8: U.S. Capitalist Development Prevents Socialism.
9 Myth 9: The Weak U.S. Dollar Boosts Exports and Drives Stock Markets.
10 Myth 10: The Foreign Exchange Market Is Strange and Speculative.
11 Summary and Some Thoughts on the Way Forward.
Bibliography.
Index.