Making Sexual History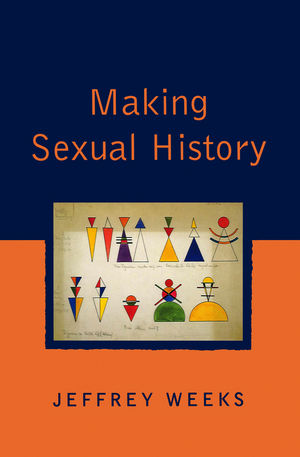 Making Sexual History
ISBN: 978-0-745-66908-3 May 2013 Polity 266 Pages
Download Product Flyer
Download Product Flyer
Download Product Flyer is to download PDF in new tab. This is a dummy description. Download Product Flyer is to download PDF in new tab. This is a dummy description. Download Product Flyer is to download PDF in new tab. This is a dummy description. Download Product Flyer is to download PDF in new tab. This is a dummy description.
Description
Jeffrey Weeks has established an international reputation as one of the most original and influential writers on the social history of sexuality.
Table of contents
Introduction: Making Sexual History.
Part I: Contested Knowledge: Writers on Sexuality:.
1. Havelock Ellis and the Politics of Sex Reform.
2. Mary McIntosh and the Homosexual Role.
3. Dennis Altman and the politics of (Homo)sexual liberation.
4. Guy Hocquenghem and Homosexual Desire.
5. Foucault for Historians.
Part II: Histories of Sexuality:.
6. Sexuality and History Revisited.
7. AIDS and the Regulation of Sexuality.
8. An Unfinished Revolution: Sexuality in the 20th Century.
Part III: Making History: .
9. The Idea of a Sexual Community.
10. Community Responses to HIV and AIDS.
11. Everyday Experiments: Narratives of Non-Heterosexual Relationships.
12. Millennium Blues and Beyond: sexuality at the fin de millennium.
Index.
Reviews
"For more than two decades, internationally acclaimed British theorist and historian, Jeffrey Weeks, has been making sexual histories of the most inspirational, intelligent and incisive sort. This magnificent selection of essays on subjects ranging from sexual science to queer theory, from moral panics to sexual solidarities distils the cumulative wisdom and distinctive vision that permeate his substantial oeuvre. With sobered, but sustaining, optimism, Weeks meticulously guides readers through the intellectual and social thickets of the wild and wondrous landscape of the last century of modern Western sexual history, theory and politics. Transcending the fractious polarities of contemporary sexual ideologies, this lucid, accessible book convincingly models its author's central thesis: one of the crucial ways we make sexual history is by thinking and writing new sexual ethics, imaginations and practices into existence.
Making Sexual History
"goes all the way" to write new sexual and social thrills into our lives as we face the new millennium."
Judith Stacey, Streisand Professor of Contemporary Gender Studies, University of Southern California
"Jeff Weeks is the doyen of history of sexuality in Britain. His 1979 volume Sex, Politics and Society remains a foundational text. Indeed the historian working in this field in modern Britain sometimes feels that any contribution made is no more than a footnote to Weeks or an expansion of points he has already made.Making Sexual History presents a broad range of Week's writings, gathered from a range of material previously published in diverse locations between 1977 and 1999" Lesley A. Hall, Wellcome Library for the History and Understanding of Medicine, Midland History
Features
* An important new book by an internationally renowned writer on the social history of sexuality.
* Brings together the author's most important work on the changing patterns of our sexual and intimate lives.
* Addresses a range of very topical issues such as the experience of living with AIDS and public responses to it.