Making Social Worlds: A Communication Perspective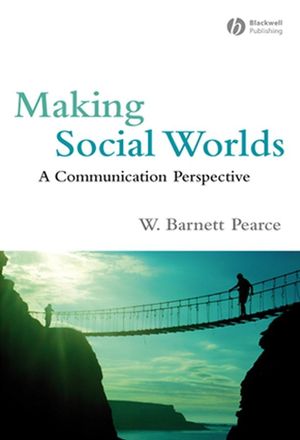 Making Social Worlds: A Communication Perspective
ISBN: 978-1-405-16259-3 November 2007 Wiley-Blackwell 272 Pages
Description
Making Social Worlds: A Communication Perspective
offers the most accessible introduction to the tools and concepts of CMM – Coordinated Management of Meaning – one of the groundbreaking theories of speech communication.


Draws upon advances in research for the most up-to-date concepts in speech communication

Defines the 'critical moments' of communication for students and practitioners; encouraging us to view communication as a two-sided process of coordinating actions and making/managing meanings

Questions how we can intervene in dangerous or undesirable patterns of communication that will result in better social worlds
Table of contents
Preface.
1. Critical moments that shape our social worlds.
2. Taking a communication perspective on social worlds.
3. Paradigms and the "physics" of social worlds.
4. Communication: Coordinating Actions and Making/Managing Meanings.
5. Doing things in communication: Speech acts.
6. Episodes and patterns of communication.
7. Selves and forms of consciousness.
8. Relationships and relational minds.
9. Afterword: Something of a guide for using CMM.
.
Reviews
"Making Social Worlds
is an exciting and gutsy volume readable by a range of audiences. The focus on critical interaction moments allows intelligent probing communication–based analyses of everything from couples fighting to wars and international relations. The conversational writing style kept me engaged from beginning to end."
Stanley Deetz. Professor
Director of Peace and Conflict Studies
National Communication Association Distinguished Scholar
International Communication Association Past-President and Fellow
"This is not only a marvelously lucid updating of CMM theory, it also demonstrates the broad applicability of this important conceptual work to problems and potentials of human communication." Kenneth J. Gergen, author of An Invitation to Social Construction

What's New


An accessible introduction to the tools and concepts of speech communication theory, offering a unique balance of theory and application

Uses examples of how practitioners work with the theory of Coordinated Management of Meaning (CMM), creating both a conceptual framework and a set of practical tools

Draws upon advances in research for the most up-to-date concepts in speech communication

Defines the 'critical moments' of communication for students and practitioners; encouraging us to view communication as a two-sided process of coordinating actions and making/managing meanings

Questions how we can intervene in dangerous or undesirable patterns of communication that will result in better social worlds