Making Strategy Happen: Transforming Plans into Reality, 2nd Edition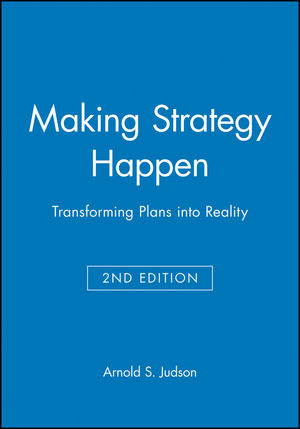 Making Strategy Happen: Transforming Plans into Reality, 2nd Edition
ISBN: 978-1-557-86721-6
Dec 1996
304 pages
Description
Strategic business plans, the key to gaining and sustaining competitive advantage in an increasingly turbulent and complex world, are useless until successfully implemented. Yet managements' failures in execution are far more common than their successes. This book explains in a practical, down-to-earth way how management can ensure successful implementation of its business strategy and achieve desired outcomes both in the marketplace and inside the organization.

The new edition of this bestselling primer contains an extensive, entirely new chapter on strategic management, further elaboration of recommended processes, and many additional international examples.
Preface.
Part I: Great Plans do not Happy Outcomes Make: .
1. The Implementation Issue.
2. Why Strategies Fail.
3. Strategic Management.
4. The Anatomy of Implementation.
Part II: New Uses for an Old Vehicle:.
5. Driving Strategy Implementation with Operating Plans.
6. Setting the Stage.
Part III: Three Cornerstone Analyses: .
7. Targeting High-Leverage Improvement Opportunities.
8. Setting the Right Priorities and Objectives.
9. Assessing Capabilities for Success.
Part IV: Formulating an Agreed Plan:.
10. Establishing Direction and Focus.
11. Specifying the Work Required.
Part V: Ensuring Implementation Success: .
12. Tracking Implementation Progress.
13. Sustaining Momentum and Focus.
14. Making Strategy Happen.
Appendices. .
1. Sample Operating Systems Characteristics.
2. High-Leverage Targets of Opportunity (Prioritized)>.
3. Organization and Management Readiness Assessment Questionnaire.
4. Generic Strategy Options.
5. An Example of a List of Issues to be Addressed by a Strategy.
6. Some typical Obstacles to Successful Stratagy Implementation.
7. Examples of Action Programs.
8. Examples of Tailored Measurement Packages.
Notes.
Index.
"Making Strategy Happen is rich in conceptual frameworks, practical illustrations, and methodological recommendations... Judson's unique blend of talents has produce a lucid book and a great contribution to hte management literature."
Arnoldo C. Hax, Alfred P. Sloan Professor of Management
"This is a splendid book...a highly useful,, and practical guide on how to start, how to continue and how to know when you have arrived." Long Range Planning