Making Technology Investments Profitable: ROI Road Map from Business Case to Value Realization, 2nd Edition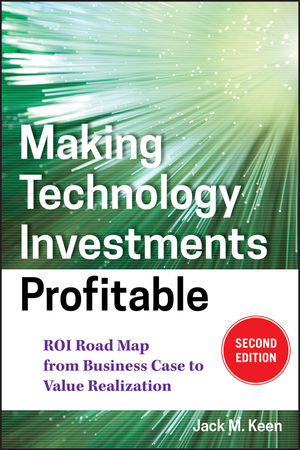 Making Technology Investments Profitable: ROI Road Map from Business Case to Value Realization, 2nd Edition
ISBN: 978-1-118-02860-5 March 2011 320 Pages
Description
A guide to getting the crucial business case right?every time
Showing professionals how to calculate the value of typical budgeting and funding requests quickly and easily, Making Technology Investments Profitable, Second Edition applies the "Value Realization" process, using proven strategies that maximize the business payoff from IT projects. Filled with case studies, this innovative book enables managers to confidently quantify, in a matter of minutes, the true business value of funding a desired project.
New edition explains how to proactively manage the conversion of a business case's value promise to its value realization
Includes dozens of new case studies on realizing maximum value from IT enabled investments from various industries and around the world
New checklists and tables
A dedicated Web site containing additional material, case studies, chat rooms, and blogs on the value-realization process
The Second Edition provides senior executives, project managers, and technical staff with new insights on how to get the crucial business case right, while also explaining how to proactively manage the conversion of the business case's value promise into the value reality of a completed project.
Preface to the Second Edition.
Acknowledgments.
Introduction.
PART ONE UNDERSTANDING VALUE LEAKS: MAJOR THREATS TO PROGRAM SUCCESS.
CHAPTER 1 Why Value Leaks Torpedo Program Success.
CHAPTER 2 Being "On-Value": The Essential Third Pillar of Investment Success.
PART TWO FLUSHING OUT VALUE LEAKS: A GUIDED JOURNEY.
CHAPTER 3 Avoiding Half-Right "Fixes".
CHAPTER 4 Introducing the Value Practices Audit.
CHAPTER 5 Evaluating Value Practice Areas.
CHAPTER 6 Shifting the Mind-Sets of Management: The Key Fix for Value Leaks.
PART THREE PLUGGING VALUE LEAKS: SUCCESS BEGINS HERE.
CHAPTER 7 Finding the Best Quick Wins.
PART FOUR GETTING THE BUSINESS CASE RIGHT.
CHAPTER 8 How to Recognize a Trustworthy Business Case.
CHAPTER 9 The Importance of Good Processes for Value Realization.
CHAPTER 10 Defi ning: Steps 1, 2, and 3 to Building Better Business Cases.
CHAPTER 11 Assessing: Steps 4, 5, and 6 to Building Better Business Cases.
CHAPTER 12 Delivering: Step 7 to Building Better Business Cases.
CHAPTER 13 Finding Hidden Value That Others Miss.
CHAPTER 14 Handling Intangibles: The Emotional Enigma of Value Realization.
CHAPTER 15 Using ROI Storytelling to Drive Home the Message.
CHAPTER 16 Selecting: Prioritizing Programs with Confidence and Ease.
CHAPTER 17 Tracking: Making Sure Benefi ts Get Realized.
APPENDIX Sample Business Case.
Glossary.
Bibliography.
About the Author.
Index.