Making Win32 Applications Mobile: Porting to Windows CE (Gearhead Press--In the Trenches)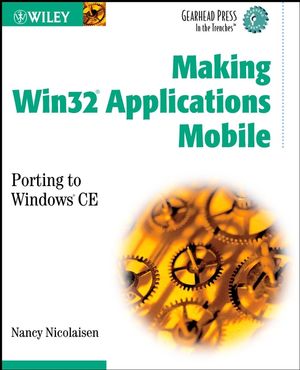 Making Win32 Applications Mobile: Porting to Windows CE (Gearhead Press--In the Trenches)
ISBN: 978-0-471-21618-6
Aug 2002
560 pages
Product not available for purchase
Description
In an increasingly mobile world, millions of developers with Windows programming experience need to quickly transfer their skills to creating compact, asynchronous CE applications. This book presents a roadmap to guide developers through the intricate tasks of porting and reworking Win32 applications to enable them to run efficiently and usefully on Windows CE-based mobile devices.
* Presents a set of metrics for developers to determine when and how best to proceed in porting Win32 applications
* Shows developers how to understand the embedded-system bias inherent in Windows CE and how to write applications that use this as a strength
* Covers Unicode, which is mandatory for Windows CE, and explains how to consider the effect of various screen resolutions
Acknowledgments.

Introduction.

PART I: ADAPTING APPLICATION APPEARANCE TO WINDOWS CE.

User Interface.

A Better Approach to Forms.

Handling Graphical Input and Output.

Handling Stylus Input.

The Windows CE Shell.

PART II: TRANSLATING WIN32 APPLICATION BEHAVIORS TO WINDOWS CE.

Writing Memory-Efficient CE Applications.

Using the Windows CE Registry.

File Handling, File Access, and Data Portability.

A CE Database Primer.

CE Power Conservation Strategies.

PART III: POWER TOOLS.

Connecting to CE From the Desktop.

RAPI and Remote Database Access.

Remote Presentations With RAPI and the HTML Viewer Control.

Appendix A: Converting Help Files.

Appendix B: Debugging and Validation Tools.

Appendix C: Saving Memory by ""Duncanizing"".

Index.