Making is Connecting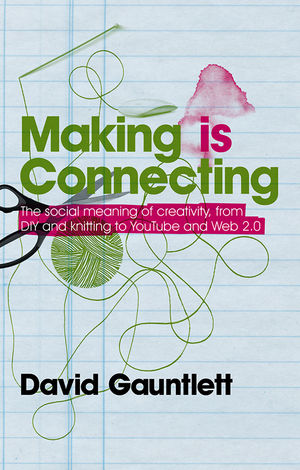 Making is Connecting
ISBN: 978-0-745-69955-4
Jun 2015, Polity
232 pages
Description
In Making is Connecting, David Gauntlett argues that, through making things, people engage with the world and create connections with each other. Both online and offline, we see that people want to make their mark on the world, and to make connections.

During the previous century, the production of culture became dominated by professional elite producers. But today, a vast array of people are making and sharing their own ideas, videos and other creative material online, as well as engaging in real-world crafts, art projects and hands-on experiences.

Gauntlett argues that we are seeing a shift from a 'sit-back-and-be-told culture' to a 'making-and-doing culture'. People are rejecting traditional teaching and television, and making their own learning and entertainment instead. Drawing on evidence from psychology, politics, philosophy and economics, he shows how this shift is necessary and essential for the happiness and survival of modern societies.



1. Introduction
2. The meaning of making I: Philosophies of craft
3. The meaning of making II: Craft today
4. The meaning of making III: Digital
5. The value of connecting I: Personal happiness
6. The value of connecting II: Social capital and communities
7. Tools for change
8. Web 2.0 not all rosy?
9. Conclusion
"Gauntlett offers a terrific account of how creativity, craft, and community intersect in the 21st century."
Clay Shirky, author of Here Comes Everybody
"Essential reading for media educators. Gauntlett takes us beyond instrumental notions of assessing creative practice or teaching with new media into a more far-reaching and political view of how human beings are finding new ways of making their mark on the world, contributing to culture and 'doing it for ourselves'. In a period where 'experts' are bombarding us with moral panics about 'screen addiction' and 'toxic childhood', usually without any research evidence or attention to the fields of existing literature,
Making is Connecting
redresses the balance and gives voice to the creative communities, on and offline, too often spoken about from positions of ignorance and suspicion."
Media Education Research Journal


"Gauntlett, who is an engaging man, is to be congratulated on this book which has taken on an enormous field and made a valuable step towards addressing some of the problems presented and the discussions around them."
Communication Research Trends
"A very accessible and sound argument centered on creating and sharing as the cornerstones to individual happiness and healthy community in a society saturated with messages imploring and coercing us to do the exact opposite. Academic but accessible, fun with serious supportive argumentation, full of life and exploding with optimism, I'm certain David Gauntlett's Making is Connecting will inspire in you the fire to make, connect, and do!"
Art Threat


"In a beautifully crafted book, [Gauntlett] explains how making things connects us to our world and to each other...Perhaps more academics should be 'craftivists'."
Alison Adam, Salford University


"Accessible, well constructed, bold and controversial."
Julian McDougall, Newman University College

"
Making is Connecting
is an inspired call to recognize the relationship between encouraging creativity and fostering an engaged citizenry. If you want to understand how emerging practices in digital participatory cultures can lead to positive transformations in our individual lives and in our societies, you need to read this book."
Lynn Schofield Clark, University of Denver


"
Making is Connecting
is a remarkably clear, convincing and engaging work. Perhaps the best thing about this book is the way in which Gauntlett draws together the existing literature in this field of creativity and community (particularly online). The book makes sense of Leadbeater, Anderson, Lanier, Shirky and others and shines a light on their strengths and weaknesses in a lucid and convincing fashion."
Andrew Dubber, Birmingham City University
Sets out a compelling argument for the importance of making things and creativity for social wellbeing.
Argues that both online and offline, making things can foster deeper connections with the world and other people and that this can be used productively for society.
Uses a range of vibrant examples, from YouTube and Twitter to knitting and guerrilla gardening.
Written by a best-selling media scholar.
Is supported by a website.