Making is Connecting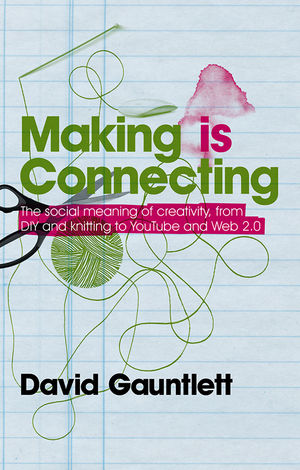 Making is Connecting
ISBN: 978-0-745-69955-4 June 2015 Polity 232 Pages
Description
In Making is Connecting, David Gauntlett argues that, through making things, people engage with the world and create connections with each other. Both online and offline, we see that people want to make their mark on the world, and to make connections.

During the previous century, the production of culture became dominated by professional elite producers. But today, a vast array of people are making and sharing their own ideas, videos and other creative material online, as well as engaging in real-world crafts, art projects and hands-on experiences.

Gauntlett argues that we are seeing a shift from a 'sit-back-and-be-told culture' to a 'making-and-doing culture'. People are rejecting traditional teaching and television, and making their own learning and entertainment instead. Drawing on evidence from psychology, politics, philosophy and economics, he shows how this shift is necessary and essential for the happiness and survival of modern societies.



1. Introduction
2. The meaning of making I: Philosophies of craft
3. The meaning of making II: Craft today
4. The meaning of making III: Digital
5. The value of connecting I: Personal happiness
6. The value of connecting II: Social capital and communities
7. Tools for change
8. Web 2.0 not all rosy?
9. Conclusion
Sets out a compelling argument for the importance of making things and creativity for social wellbeing.
Argues that both online and offline, making things can foster deeper connections with the world and other people and that this can be used productively for society.
Uses a range of vibrant examples, from YouTube and Twitter to knitting and guerrilla gardening.
Written by a best-selling media scholar.
Is supported by a website.