Mammalian TRP Channels as Molecular Targets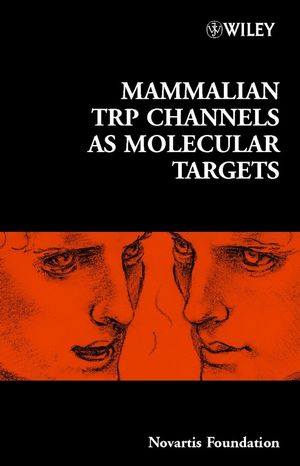 Mammalian TRP Channels as Molecular Targets
ISBN: 978-0-470-86258-2 October 2008 286 Pages
Description
This book brings together contributions from key investigators in the area of Transient Receptor Potential (TRP) channel structure and function. It covers the structure, function and regulation of mammalian TRP channels and mechanisms of signal transduction. The discussions indicate research that would improve understanding of the role of TRP channels in normal cellular physiology, the involvement of TRP channels in disease states and their potential use as molecular targets for novel therapeutic agents.
Table of contents
Chair's Introduction (J. Putney).
Molecular genetics of Drosophila TRP channels (C. Montell).
Mammalian TRPC channnel subunit assembly (W. Schilling and M. Goel).
TRPC channel interactions with calmodulin and IP3 receptors (M. Zhu & J. Tang).
Plasma membrane localizations of TRPC channels: role of caveolar lipid rafts (I. Ambudkar, et al.).
Assembly and gating of TRPC channels in signalling microdomains (P. Delmas).
General discussion I.
Activation, subunit composition and physiological relevance of DAG-sensitive TRPC  proteins (T. Gudermann, et al.).
Signalling mechanisms for TRPC3 channels (J. Putney, et al.).
Diversity of TRP channel activation (B. Nilius and T. Voets).
General discussion II.
Regulation of Drosophila TRP channels by lipid messengers (R. Hardie).
Control of TRPC and store-operated channels by protein kinase C (K. Venkatachalam, et al.).
TRPC4 and TRPC4 deficient mice (M. Freichel, et al.).
TRP channels as drug targets (S. Li, et al.).
Role of TRP channels in oxidative stress (K. Groschner, et al.).
Distribution of TRPC channels in a visceral sensory pathway (M. Buniel, et al.).
Emerging roles of TRPM channels (A. Fleig and R. Penner).
Final discussion.
Index of contributors.
Subject index.