Manage Your Life with Outlook For Dummies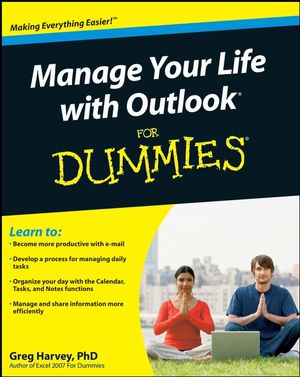 Manage Your Life with Outlook For Dummies
ISBN: 978-0-470-46249-2 November 2008 384 Pages
Description
An all-new guide that unlocks the secrets of greater Office 2007 productivity-a must-have for power users and everyone who would like to work more efficiently
Offers scores of tips, tricks, and techniques to boost productivity with the programs people use every day-Word, Outlook, Excel, and PowerPoint
Topics covered include dealing effectively with e-mail, effectively managing files, using and creating templates, reusing and remixing content, sharing and reviewing content, and efficiently managing time and scheduling
The CD-ROM and companion Web site offer podcasts of key productivity tips from the book
Note: CD-ROM/DVD and other supplementary materials are not included as part of eBook file.
Introduction.
Part I: Preparing for Personal Productivity.
Chapter 1: Planning for Better Balance between Your Work and Personal Life.
Chapter 2: Exploring Accepted Beliefs on Personal Productivity.
Chapter 3: Surveying Some Popular Outlook Productivity Systems.
Chapter 4: Defining Personal Productivity on Your Own Terms.
Part II: Making Outlook Your Key to Personal Productivity.
Chapter 5: Mastering Information Management with Outlook.
Chapter 6: Giving Outlook a Productivity Makeover.
Part III: Taking Control of Your E-Mail Inbox.
Chapter 7: Doing Your Initial E-Mail Inbox Housecleaning.
Chapter 8: Doing Your Ongoing E-Mail Inbox Housekeeping.
Part IV: Developing Your Outlook Productivity Practices.
Chapter 9: Creating and Sending E-Mail Messages Like a Pro.
Chapter 10: Using Calendar to Keep Yourself on Schedule.
Chapter 11: Using Contacts to Stay in Touch.
Chapter 12: Using Tasks to Successfully Stay on Top of Your Obligations.
Chapter 13: Using Notes to Capture Your Ideas.
Chapter 14: Using the Journal to Keep an Eye on Your Activities.
Chapter 15: Outlook on the Go.
Part V: The Part of Tens.
Chapter 16: Top Ten Personal Productivity Strategies.
Chapter 17: Top Ten Outlook Productivity Techniques.
Appendix A: Personal Productivity Resources.
Appendix B: Personal Productivity Self-Assessment.
Index.