Managed Care Made Simple, 2nd Edition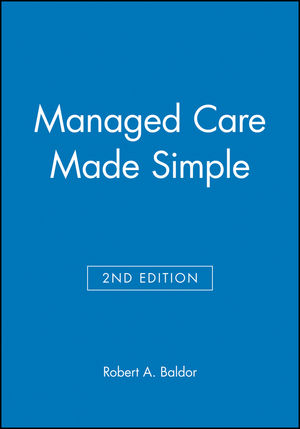 Managed Care Made Simple, 2nd Edition
ISBN: 978-0-632-04378-1
Mar 1998, Wiley-Blackwell
176 pages
Description
Now more than ever, the need is great for medical students, physicians, nurse practitioners, and other healthcare providers to understand managed care. With clear explanations of issues ranging from medical costs to healthcare reform, Managed Care Made Simple is an invaluable resource for anyone who has chosen a career in the health professions. The second edition of this successful book updates the latest in this rapidly changing field. Every chapter has been revised and a new section on legislative initiatives has been added. Dr Baldor's straightforward approach offers a greater understanding of medical economics for physicians and their patients.
Preface;.
Acknowledgement;.
Illustration Credits;.
I. Introduction;.
II. Healthcare Financing:.
A. Overview;.
B. Traditional Insurance and Fee-For-Service;.
C. Medicare;.
D. Medicaid;.
E. Payments;.
III. Healthcare Reform:.
A. The Issues;.
B. The Reform Debate;.
C. The Current Situation;.
D. Examples of Other Countries;.
E. State Initiatives;.
IV. Managed Care:.
A. Roots of Managed Care;.
B. Growth and Development of Managed Care;.
C. Managed Care Organization Models;.
D. Managed Care Functions;.
E. Workforce Issues;.
F. Payment Methods;.
G. Ethical Considerations;.
H. Legislative Initiatives;.
V. Health Insurance - The Patient Perspective:.
A. Introduction;.
B. Private Insurance;.
C. Medicare;.
D. Medicaid;.
E. Long Term Care;.
VI. Pharmaceutical Costs;.
VII. Problem Solving Exercises:.
A. Managed Care Exercise;.
B. Problem Solving Cases;.
References;.
Glossary;.
Appendices:.
A. Answers to Problem Solving Cases;.
B. Board Review Questions;.
C. Hospital Costs;.
D. Diagnostic Imaging Charges;.
E. Clinical Pathology Diagnostic Test Costs;.
F. Miscellaneous Charges;.
G. Physician Fee for Selected Procedures