Managed Funds For Dummies, Australian Edition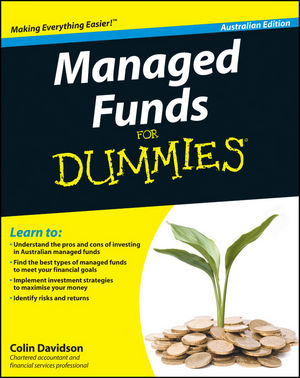 Managed Funds For Dummies, Australian Edition
ISBN: 978-1-742-16942-2 September 2011 376 Pages
Description
Created especially for the Australian customer!
Find your way through the managed fund maze and make the most of your investments!
Multi-sector equities? Concentrated funds? How about index funds? If you're being deafened by the volume of investment options, this accessible and informative guide shows you the way! Find the best fund for your needs with lots of insider tips. Make smart investment decisions that will pave your way to financial success!
Understand what makes a managed fund tick — how managed funds differ from other investments

Work out your investor profile — weighing up the level of risk you're willing to take to reap your rewards

Appreciate class and style — how a mix of asset class and management style can produce the results you're after

Identify the key players — what makes some funds stand out and what keeps them on top of the pile

Calculate the costs — deciphering fees and commissions and making sure you're not paying too much

Make sense of ratings — what the ratings agencies do and how you can get your head around their research

Learn the tricks of the trade — easy tips and strategies for buying, selling and monitoring your fund

Analyse fund performance — how to assess returns to enhance your investment success
Open the book and find:
Charts and tables to illustrate how managed funds work

Checklists for understanding reports and filling in the forms

Concise descriptions of the different fund types

Useful websites for funds and regulators

Tips for managing your own investment portfolio

A comprehensive glossary to cut through the jargon
Learn to:
Understand the pros and cons of investing in Australian managed funds

Find the best types of managed funds to meet your financial goals

Implement investment strategies to maximise your money

Identify risks and returns
Table of contents
Introduction.
Part I: Coming to Grips with the Basics of Managed Funds.
Chapter 1: Getting Started with Managed Funds.
Chapter 2: Understanding the Pros and Cons of Managed Funds.
Chapter 3: Examining the Structures of Managed Funds.
Chapter 4: Identifying Asset Classes and Investment Styles.
Chapter 5: Revealing the Cost of Investing: Fees and Commissions.
Part II: Doing the Research for Your Peace of Mind.
Chapter 6: Assessing Your Appetite for Risk and Avoiding Indigestion.
Chapter 7: Setting Your Goals and Making a Plan.
Chapter 8: Understanding Research and Ratings Agencies.
Chapter 9: Making Sense of Performance.
Part III: Choosing, Buying and Selling Managed Funds.
Chapter 10: Discovering Who's Who in the Managed Funds Zoo.
Chapter 11: Looking At Your Options: Taking Advice or Going It Alone.
Chapter 12: Filling In the Forms.
Chapter 13: Buying, Selling and Monitoring Your Investments.
Part IV: Determining How Funds Are Labelled.
Chapter 14: Understanding Standard Fund Types.
Chapter 15: Examining More Ways of Classifying Managed Investments.
Chapter 16: Lifting the Veil on Hedge Funds and Structured Products.
Chapter 17: Looking at Administration Services and Managed Accounts.
Part V: Following Some Sensible Ideas for Happier Returns.
Chapter 18: Borrowing to Invest.
Chapter 19: Investigating Other Investment Strategies.
Chapter 20: Understanding What Can Go Wrong and What to Do If It Does.
Part VI: The Part of Tens.
Chapter 21: Ten Tips for Managed Fund Investing.
Chapter 22: Ten Traps and Pitfalls: What the Managers Don't Tell You.
Glossary.
Index.