Management, 2nd Edition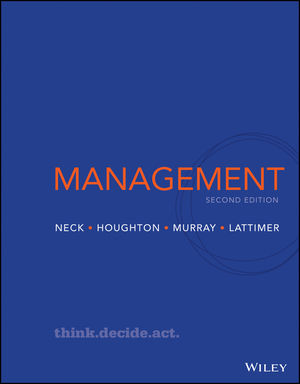 Management, 2nd Edition
ISBN: 978-1-119-30044-1
Oct 2016
504 pages
Product not available for purchase
Description
Management, 2nd Edition by Neck, Houghton, Murray, & Lattimer helps students think critically, make better decisions, and act in an ethical way that contributes to long-term organizational success. The authors of Management 2nd Edition believe that young managers can contribute to building a more sustainable future by making decisions that are more acutely informed by their ability to see, think, apply, analyze, design, integrate, and evaluate systems and patterns of behavior. This text provides the tools to help instructors teach and students learn the how and why behind management decisions. Choose Neck, Management and build your students' critical thinking skills necessary for sound decision-making that later translates into effective business management.
1: Management in the 21st Century
2: The Evolution of Management
3: Critical Thinking for Managers
4: Organizations and Change Management
5: Diversity in a Global Economy
6: Ethics and Social Responsibility
7: Making Better Decisions
8: Setting Goals
9: Designing Strategies
10: Structuring Organizations
11: The Human Side of Management
12: Managing Team Performance
13: Managers as Leaders
14: Understanding Individual Behavior
15: Communicating and Motivating Others
16: Information and Operations
17: Performance Development
18: Entrepreneurship and Innovation
NEW - Career Readiness Applications: Highlights themes including: critical thinking skills, presentations, resumes, interviews, and other practical elements to prepare the student for the workplace. Connected to videos done by career-coach Drew Lichtenberg and available in the WileyPLUS Learning Space course.
Management Stories: Rich, management stories—real life examples contributed by industry professionals—are featured throughout the text to enable student to engage with the real world
"Voices of Management": Interviews with real managers and leaders to augment the learning and storytelling style of each chapter - updated for the new edition
Research @ Work: Offers key research in the field of management with current topics of interest to from leading academic journal research
Chapter Exercises: New exercises that activate management principles for college students to build valuable experience and increase skills through decision-oriented challenges.
Unique examples, cases and stories: individuals and organizations featured throughout the text are varied---from start-ups, small businesses and Fortune 500 companies from non-profit and for-profit sectors—to illustrate systems thinking in a multitude of environments. New cases include Amazon, Spartan Race, and Uber.
WileyPLUS Learning Space is an easy way for students to learn, collaborate, and grow. With WileyPLUS Learning Space, students create a personalized study plan, assess progress along the way, and make deeper connections as they interact with the course material and each other.
ORION adaptive practice - WileyPLUS Learning Space also includes ORION–integrated, adaptive practice that helps students build their proficiency on topics and use their study time most effectively.
Critical Thinking Approach: Promotes more active learning and engagement through critical thinking to connect students with the realities of management