Management, 4th Asia-Pacific Edition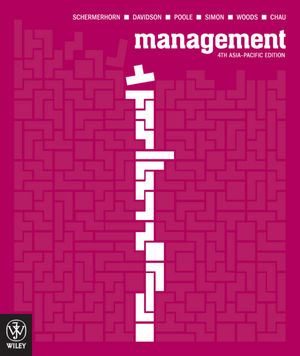 Management, 4th Asia-Pacific Edition
ISBN: 978-1-742-16472-4
Sep 2010
647 pages
Product not available for purchase
Description
The fourth edition of this popular text has been throughly updated, continuing its strong emphasis on the importance of the Asian region to contemporary Australian and New Zealand organistations. Many Asian case examples are featured to illustrate key management concepts.
Joining the author team for this edition and enhancing this edition's critical analysis of management theory and applications are the best-selling authors from another of Wiley's undergraduate introductory management texts - Management: Core Concepts and Applications, 2nd Australasian edition (Davidson et al.).
This new edition also discusses the impact of recent events such as the global financial crisis on the management of organisations, both during the crisis and in its aftermath.
Of course, Management, 4th Asia- Pacific edition also retains the features that made it so popular with students and lecturers in the earlier editions:
a balanced coverage of small to medium-sized enterprises and larger multinational corporations
an emphasis on the need for business activities to be sustainable in terms of preserving the welfare of future generations
the Career Readiness Workbook at the end of the book, which includes a range of indiviual and group activities to encourage the practical applications of management theory.
Wtih its clear insights into dynamics of management in the workplace of today and the future, Mangement, 4th Asia-Pacific edition provides a sound basis for the contemporary undergraduate study of introductory management.
About the authors.
Applications at a glance.
Preface.
How to use this book.
Additional resources.
Acknowledgements.
Chapter 1 The contemporary workplace.
Chapter 2 Environment and diversity.
Chapter 3 Information and decision making.
Chapter 4 Historical foundations of management.
Chapter 5 International dimensions of management.
Chapter 6 Ethical behaviour and social responsibility.
Chapter 7 Planning.
Chapter 8 Controlling.
Chapter 9 Strategic management.
Chapter 10 Entrepreneurship and new ventures.
Chapter 11 Organising.
Chapter 12 Human resource management.
Chapter 13 Leading.
Chapter 14 Motivation and rewards.
Chapter 15 Individuals, job design and stress.
Chapter 16 Teams and teamwork.
Chapter 17 Communication and interpersonal skills.
Chapter 18 Leading and managing change.
Chapter 19 Operations and services management.
CAREER READINESS WORKBOOK.
Assignment writing.
Research and presentation projects.
Exercises in teamwork.
Endnotes.
Glossary.
Index.