Management, 5th Asia Pacific Edition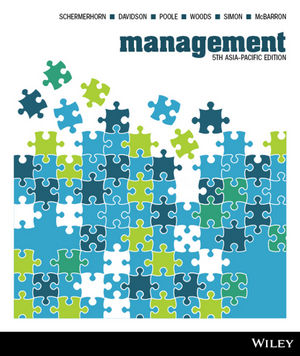 Management, 5th Asia Pacific Edition
ISBN: 978-1-118-36252-5
Sep 2013
744 pages
Product not available for purchase
Description
The fifth edition of this text has been thoroughly updated, continuing its strong emphasis on the importance of the Asian region to contemporary Australian and New Zealand organisations. Many Asian case examples are featured to illustrate key management concepts, and these provide a useful basis for comparison with management practices in Australia and New Zealand.
Numerous practical examples throughout the text highlight contemporary management issues, such as:
workplace diversity
sustainability
ethics/corporate social responsibility
the impact of technology
innovation in the workplace
globalisation
employee engagement
flexible working arrangements
work-life balance
generational issues in the workplace
skills shortages in various industries
the importance of effective employee recruitment and training
organisational culture
workforce flexibility and casualisation
the '24/7' nature of contemporary communication technology, including social media
outsourcing
Management, 5th Asia Pacific edition, has also retained the features that have made previous editions so popular with students and lecturers, including the Career Readiness Workbook activities at the end of the book, and the accompanying Interactive Study Guide with its vast array of multimedia resources.
About the authors xiii
Applications at a glance xvi
Preface xx
Transition guide xxiii
How to use this book xxiv
Additional resources xxviii
Acknowledgements xxix
Chapter 1 The contemporary workplace 1
Chapter 2 Historical foundations of management 33
Chapter 3 Environment and diversity 57
Chapter 4 International dimensions of management 87
Chapter 5 Ethical behaviour and social responsibility 119
Chapter 6 Sustainability 147
Chapter 7 Information and decision-making 169
Chapter 8 Planning 197
Chapter 9 Strategic management 223
Chapter 10 Organising 257
Chapter 11 Controlling 293
Chapter 12 Human resource management 317
Chapter 13 Leading 359
Chapter 14 Communication and interpersonal skills 387
Chapter 15 Motivation and rewards 421
Chapter 16 Individuals, job design and stress 451
Chapter 17 Teams and teamwork 485
Chapter 18 Leading and managing change 519
Chapter 19 Entrepreneurship and new ventures 559
Chapter 20 Operations and services management 581
Case studies 605
CAREER READINESS WORKBOOK
Assignment writing 621
Research and presentation projects 629
Exercises in teamwork 633
Endnotes 642
Glossary 681
Index 694
Brand new dedicated chapter on 'Sustainability'.
Comprehensive end-of-book case studies that tie together concepts and themes from multiple chapters.
New and/or updated in-chapter research, statistics and boxed features.
All new end-of-chapter case studies examples to illustrate key concepts.
Regional research activities for each chapter, to encourage students to analyse a relevant and topical management journal article.
Colour coded boxes throughout the text represent seven contemporary recurring management themes (Asian perspectives, diversity, sustainability, ethics/social responsibility, technology, innovation and globalisation).
Critical analysis questionsposed at strategic points throughout each chapter encourage students to analyse and/or debate real-world issues facing contemporary managers.
Career Readiness Workbookat the back of the text provides numerous individual and group activities, ideal for either tutorials/workshops or self-study.
Interactive Study Guide to accompany the text contains multimedia resources ideal for online learning and the application of key management concepts.