Management: A Balanced Approach to the 21st Century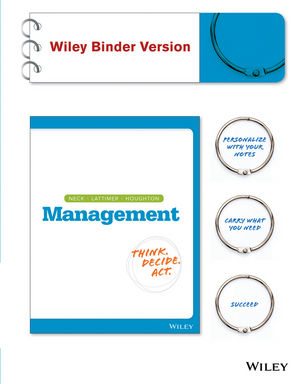 Management: A Balanced Approach to the 21st Century
ISBN: 978-1-118-80000-3
Oct 2013
576 pages
Description
Think. Decide. Act.
Management by Neck, Lattimer and Houghton helps students think critically, make better decisions, and act in an ethical way that contributes to long-term organizational success.
The authors of Management believe that young managers can contribute to building a more sustainable future by making decisions that are more acutely informed by their ability to see, think, apply, analyze, design, integrate, and evaluate systems and patterns of behavior. In order to do this, students and instructors need a new principles of management textbook to address today's challenges and opportunities, with a new approach to content, pedagogy, and style.
While this approach is different, instructors should feel immediately comfortable using the text: with input from over 200 principles of management instructors over the course of its development, Management provides the tools to help instructors teach and students learn the how and why behind management decisions. Choose Neck, Management and build your students' critical thinking skills necessary for sound decision-making that later translates into effective business management.
Critical Thinking Approach: Offering a separate chapter on critical thinking, connecting the four functions of management in each chapter and offering unique pedagogical tools support the aim of the book: to help students develop critical thinking skills that translate into effective business management.
Storytelling Style: The authors illustrate principles of management concepts in a context that aides instructors in showing how and why they are applied in real world situations, and in a style that ignites the imagination and sparks discussion.
Management Stories: Rich, management stories—real-life examples contributed by industry professionals-- are featured throughout the text to enable students to critically engage with the complexities of the real world.
Unique examples, cases and stories: individuals and organizations featured throughout the text are varied--from start-ups, small businesses and Fortune 500 companies from non-profit and for-profit sectors—to illustrate systems thinking in a multitude of environments.
"Research at Work": This feature found throughout the text offers key research in the field of management with current topics of interest from leading academic journal research.
"Seeing Systems": Over the course of the book, students will develop their ability to see the systems underlying different situations, to analyze and manage systems to reach desired outcomes, and to design systems that lead to sustainable, successful organizations.  
WileyPLUS with ORION: WileyPLUS is now equipped with an adaptive learning module called ORION. Based on cognitive science, WileyPLUS with ORION, provides students with a personal, adaptive learning experience so they can build their proficiency on topics and use their study time most effectively.