Management Accounting, 2nd Edition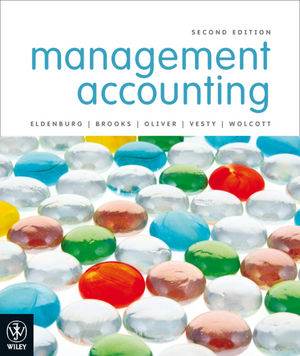 Management Accounting, 2nd Edition
ISBN: 978-1-742-16614-8
Oct 2010
879 pages
Product not available for purchase
Description
Management Accounting 2nd edition has been revised in response to changes in the global business environment. Unbridled access to information, intense competition and ongoing challenges in the corporate world have meant that cost accounting has become an increasingly important tool for managers and accountants alike. Most textbooks focus on content knowledge and then expect students to 'magically' demonstrate skills such as decision-making and critical thinking.

As many students fail to recognise the assumptions, limitations, behavioural implications and qualitative factors that influence managerial decision-making, this text will better prepare students for professional success by bridging the gaps between knowledge, skills and abilities.

The textbook is written in a style that is accessible to students and includes chapter scene setters, realistic illustrative examples, self-study problems and unique problem material structured to encourage students to think about accounting problems and problem-solving more complexly.

 
Preface.
Steps for better thinking.
How to use this book.
Acknowledgements.
1 The role of accounting information in management decision making.
2 Cost concepts, behaviour and estimation.
3 A costing framework and cost allocation.
4 Cost–volume–profit (CVP) analysis.
5 Job costing systems.
6 Process costing systems.
7 Absorption, variable and throughput costing.
8 Activity analysis: costing and management.
9 Relevant costs for decision making.
10 Standard costs, flexible budgets and variance analysis.
11 Operational budgets.
12 Strategy and control.
13 Planning and budgeting for strategic success.
14 Capital budgeting and strategic investment decisions.
15 The strategic management of costs and revenues.
16 Strategic management control: a lean perspective.
17 Responsibility accounting, performance evaluation and transfer pricing.
18 The balanced scorecard and strategy maps.
19 Rewards, incentives and risk management.
20 Sustainability management accounting.
Glossary.
Index.
 NEW Chapter 19 Rewards, incentives and risk management - details the structure of reward systems and motivating performance with incentives
 NEW chapter 20 Sustainability management accounting - discusses the integrated value of sustainability to a business and how its connection to performance. The chapter includes current topics of sustainability enterprise governance and carbon accounting and management control
 Two Part structure, with 20 chapters, provide instructors with the opportunity to use the text across two management accounting/control subjects particularly at the undergraduate level.
 Focuses on a wide range of business types, including: manufacturing, retail, service, non-profit, and SMEs
 Illustrative examples appear all chapters to support the key concepts presented
 Scene setters present a range of real business scenarios that introduce the management accounting concepts in the chapter
 More attention on the link between strategy and control including emerging themes and frameworks 
Discusses risk management from a control system perspective.