Management Communication, 3rd Edition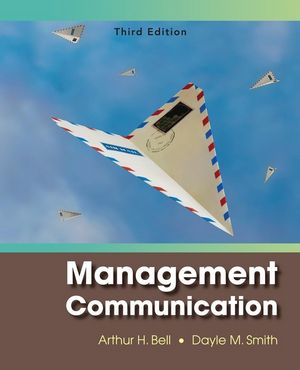 Management Communication, 3rd Edition
ISBN: 978-0-470-45381-0 August 2010 608 Pages
Description
Students require excellent communication skills in their business and academic lives.  Management Communication is a step-by-step guide for learning specific techniques to help them improve those skills and achieving clarity and brevity in business writing.  The authors follow a four-part approach to communication instruction:  explain it, try it, evaluate it, perfect it.  They provide graduate and undergraduate students, managers, and managers-in-training with the tools they need to become masterful communicators.

The new 3rd Edition has a greater focus on "strategy through skill" and provides more opportunities for applying skills and insights to a broad range of fields for success in future careers in accounting, finance, marketing, management, information systems, telecommunications, and HR.

 
Preface iii
Acknowledgements v
Introduction vii
Part One Pillars of Management Communication 1
Chapter 1 Communication Architecture for Professional Success 5
Chapter 2 A Process for Management Writing 46
Chapter 3 Individual and Collaborative Styles for Management Writing 72
Chapter 4 Oral Presentations 103
Chapter 5 Listening 145
Part Two Letters, Memos, and Email 159
Chapter 6 Formats and Techniques for Business Letters 163
Chapter 7 Saying "Yes" and "No" in Correspondence 191
Chapter 8 Persuasive Messages 226
Chapter 9 Effective Memos and E-mail 251
Part Three Reports and Proposals 271
Chapter 10 Short and Long Reports 275
Chapter 11 Proposals and Business Plans 340
Chapter 12 Graphic Aids for Documents and Presentations 362
Part Four Career Communication 389
Chapter 13 The Career Search, Resumes, and Follow-up Communications 393
Chapter 14 Guidelines for Interviewees and Interviewers 433
Part Five Communication Issues for Management Success 447
Chapter 15 Managing Meetings and Telephone Work 451
Chapter 16 Ethics and Law for Management Communication 467
Chapter 17 Gender Communication 488
Chapter 18 Crisis Communication and Media Relations 500
Chapter 19 Communication for Intercultural Management 509
Appendix A Management Communication Cases 533
Appendix B Grammar, Punctuation, and Usage 565
Appendix C Documentation 574
Index 583
New section on social networking communication. The rapidly emerging communication phenomena of FaceBook, Myspace, and other social networking sites are explored. Use of this technology for business and marketing purposes is discussed in depth.
New section on the electronic career search. Students learn the latest ways to develop resumes that are "searchable" by key terms, make use of career databases, and write cover-letter and follow-up communications that give them the edge in the job search.
New material on the almost universal phenomenon "speaker's nerves"—perhaps the single greatest enemy to progress in professional speaking—and how to overcome it.
"Explain it-try it-evaluate it-perfect it" approach which stresses an active rather than passive approach to learning.
Targeted help for international students - An entire text section has been developed to assist non-native speakers of English in their efforts to produce readable, well-edited college work.
Communication Dilemmas feature - These recurring feature boxes across chapters pose interesting, real-life communication choices and challenges--gems for class discussion and writing on what can I say, what should I say, and what will others say, among other questions.
"Meet a Management Communicator" - These six brief interviews, distributed among chapters, give students a chance to meet real men and women who communicate professionally in a variety of corporate environments.
Communication Choices feature boxes - Pose communication challenges for which the reader must choose an appropriate communication medium: Do I send an email? Leave a voice mail? Call in person? Write a traditional letter? Send a fax? These kinds of crucial communication choices are not treated by competing texts.
Linked features on Candor and Communication - These anecdote-based features make the point that truth-telling, authenticity, and transparency are must-have skills for every business communicator.