Management Information Systems, 1st Edition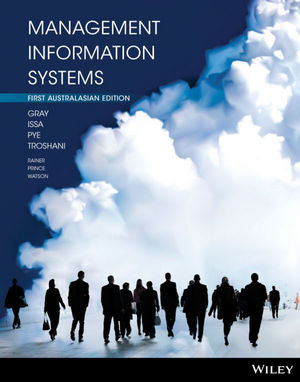 Management Information Systems, 1st Edition
ISBN: 978-1-118-64602-1
Sep 2014
528 pages
Product not available for purchase
Description
In our digital age, information systems are at the forefront of business innovation in Australia, New Zealand and the Asia–Pacific region.
Management Information Systems, First Australasian edition carefully considers the cross-functional perspectives of students from all majors within the business degree, making it the ideal resource for the introductory MIS course.
From Anonymous hacktivists operating in Australia to Loyalty New Zealand's command of big data; and the latest agricultural apps to lessons learnt from the Queensland Health payroll fiasco, Management Information Systems, First Australasian edition investigates the business imperative first and then applies the information systems context for a holistic learning experience.
Drawing on diverse examples from large corporations, small- and medium-sized enterprises, and government and not-for-profit organisations in Australia and New Zealand, our resource dissects contemporary business issues like ethics, green IT, cloud computing, big data, privacy, IT risk and security, and the impact of social media on e-commerce. Through the frequent 'IT's About Business' case studies in every chapter, the resource provides a strong balance of grounding theory and real-world application.
Our unique pedagogical structure delivers a thorough, hands-on examination of our local region's business ecosystem in accessible, jargon-free style. Special features include a recurring case focusing on Malakai and Abbie, recent business graduates running a small Sydney venue, 'The Nook'. Students will achieve deep understanding of MIS concepts by following the pair's progress as they overhaul the technological infrastructure — and online presence — of their business. Our resource also offers frequent opportunities to practise the Excel and Access applications relevant to the modern workplace.
As we move globally to a knowledge economy, students using Management Information Systems, First Australasian edition will be empowered to enact industry best practice through extensive practical exercises to encourage creative thinking and problem solving.
Preface x
About the authors xii
Applications at a glance xiv
How to use this resource xvi
Digital self-study resources xxi
CHAPTER 1 Introduction to information systems 1
CHAPTER 2 Organisational strategy, competitive advantage and information systems 37
CHAPTER 3 Data and knowledge management 71
CHAPTER 4 Telecommunications and networking 111
CHAPTER 5 Business intelligence 153
CHAPTER 6 Ethics and privacy 181
CHAPTER 7 Information security 205
CHAPTER 8 Social computing 249
CHAPTER 9 E-business and e-commerce 295
CHAPTER 10 Wireless, mobile computing and mobile commerce 333
CHAPTER 11 Information systems within the organisation 375
CHAPTER 12 Extending the organisation to customers 401
CHAPTER 13 Extending the organisation along the supply chain 429
CHAPTER 14 Acquiring information systems and applications 453
Acknowledgements 489
Endnotes 491
Index 495
Each of our chapters contains a number of pedagogical features to support student learning. These include:
Opening case: A short, real-world case focuses on a company from our local region using information systems to solve a business problem. Cases in introductory information systems textbooks typically focus on multinational corporations. In contrast, our chapter opening cases also demonstrate how small- and medium-sized enterprises address business problems using information systems. The cases add an entrepreneurial flavour to each chapter for students considering their own start-up business.
The Nook: At the beginning of each chapter is a recurring case focusing on 'The Nook', a small Sydney cocktail bar run by university graduates Malakai and Abbie. The Nook needs help redesigning its online presence and overhauling its technological infrastructure. Throughout the course of the book, students are presented with a series of related business problems for them to solve as if they were on work experience at The Nook. Each chapter-opening scenario poses a business challenge that students will be able overcome after reading the chapter content.
IT's About Business: Short cases that demonstrate real-world applications of IT to business in Australia and New Zealand. Each case is accompanied by a series of critical thinking questions.
Before you go on: These end-of-section reviews prompt students to pause and test their understanding of concepts before moving on to the next section.
Apply the Concept: Reading content in each section is followed by an 'Apply the Concept' activity. These are a hands-on opportunity for students to immediately apply what they have learned. Each feature has the following progression: background (places the activity in the context of relevant reading material), activity (a hands-on exercise) and deliverable (various tasks for students to complete as they perform the activity).
What's in IT for me?: This unique end-of-chapter summary demonstrates the relevance of each key chapter topic to different functional areas of a business degree, including accounting, finance, marketing, human resources management and management information systems. This cross-functional focus makes the book accessible for students from any major.
Discussion questions and problem-solving activities: These features provide practice through active learning. The exercises are hands-on opportunities to apply the concepts discussed in the chapter.
Collaboration exercises: These are team exercises that require students to take on different functional roles and collaborate to solve business problems. The activities give students first-hand experience solving business problems using IS tools while also experiencing an authentic team environment.
Closing cases: Each chapter concludes with two cases about business problems faced by actual Australian, New Zealand and global companies, outlining how they have used IS tools to solve those issues. The cases are broken down into four parts: a description of the problem, an overview of the IS solution implemented, a presentation of the results of the implementation and an analysis of the key take-aways from the case. Each case is followed by discussion questions so that students can further explore the concepts presented in the case.
Spreadsheet and database activities: Every chapter contains hands-on spreadsheet and database projects that require students to practise their Excel/Access skills while using the concepts learned in the chapter. Each activity includes deliverables and discussion questions.