Management Information Systems, 3rd Edition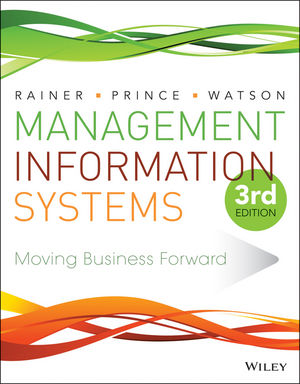 Management Information Systems, 3rd Edition
ISBN: 978-1-118-89538-2
Jul 2015
576 pages
Product not available for purchase
Description
The 3rd Edition of Management Information Systems promotes active learning like no other text in the market. Each chapter is comprised of tightly coupled concepts and section-level student activities that transport your students from passively learning about IS to doing IS in a realistic context.
The integration of Microsoft Excel and Access exercises at the end of every chapter enables students to practice their Microsoft application skills in the context of the chapter material.
Chapter 1 Introduction to Information Systems 2

1.1 Why Should I Study Information Systems? 4

1.2 Overview of Computer-Based Information Systems 10

1.3 How Does IT Impact Organizations? 18

1.4 Importance of Information Systems to Society 21

Chapter 2 Organizational Strategy, Competitive Advantage, and Information Systems 36

2.1 Business Pressures, Organizational Responses, and Information Technology Support 38

2.2 Competitive Advantage and Strategic Information Systems 48

Chapter 3 Data and Knowledge Management 66

3.1 Managing Data 68

3.2 The Database Approach 72

3.3 Big Data 77

3.4 Data Warehouses and Data Marts 83

3.5 Knowledge Management 90

Chapter 4 Telecommunications and Networking 102

4.1 What Is a Computer Network? 104

4.2 Network Fundamentals 106

4.3 The Internet and the World Wide Web 112

4.4 Network Applications 117

Chapter 5 Business Intelligence 140

5.1 Managers and Decision Making 142

5.2 What Is Business Intelligence? 146

5.3 Business Intelligence Applications for Data Analysis 150

5.4 Business Intelligence Applications for Presenting Results 154

Chapter 6 Ethics and Privacy 168

6.1 Ethical Issues 169

6.2 Privacy 174

Chapter 7 Information Security 190

7.1 Introduction to Information Security 192

7.2 Unintentional Threats to Information Systems 194

7.3 Deliberate Threats to Information Systems 197

7.4 What Organizations Are Doing to Protect Information Resources 204

7.5 Information Security Controls 205

Chapter 8 Social Computing 226

8.1 Web 2.0 229

8.2 Fundamentals of Social Computing in Business 238

8.3 Social Computing in Business: Shopping 240

8.4 Social Computing in Business: Marketing 245

8.5 Social Computing in Business: Customer Relationship Management 250

8.6 Social Computing in Business: Human Resource Management 251

Chapter 9 E-Business and E-Commerce 262

9.1 Overview of E-Business and E-Commerce 265

9.2 Business-to-Consumer (B2C) Electronic Commerce 272

9.3 Business-to-Business (B2B) Electronic Commerce 279

9.4 Ethical and Legal Issues in E-Business 281

Chapter 10 Wireless, Mobile Computing, and Mobile Commerce 296

10.1 Wireless Technologies 298

10.2 Wireless Computer Networks and Internet Access 305

10.3 Mobile Computing and Mobile Commerce 313

10.4 Pervasive Computing 318

10.5 Wireless Security 322

Chapter 11 Information Systems within the Organization 332

11.1 Transaction Processing Systems 334

11.2 Functional Area Information Systems 335

11.3 Enterprise Resource Planning Systems 342

11.4 ERP Support for Business Processes 349

Chapter 12 Customer Relationship Management 362

12.1 Defining Customer Relationship Management 364

12.2 Operational Customer Relationship Management Systems 368

12.3 Analytical Customer Relationship Management Systems 372

12.4 Other Types of Customer Relationship Management Systems 373

Chapter 13 Supply Chain Management 384

13.1 Supply Chains 385

13.2 Supply Chain Management 387

13.3 Information Technology Support for Supply Chain Management 392

Chapter 14 Acquiring Information Systems and Applications 404

14.1 Planning for and Justifying IT Applications 405

14.2 Strategies for Acquiring IT Applications 409

14.3 The Traditional Systems Development Life Cycle 416

14.4 Alternative Methods and Tools for Systems Development 423

14.5 Vendor and Software Selection 426

Plug IT In 1 Business Processes and Business Process Management 438

PI1.1 Business Processes 438

PI1.2 Business Process Improvement, Business Process Reengineering, and Business Process Management 442

Plug IT In 2 Hardware and Software 450

PI2.1 Introduction to Hardware 450

PI2.2 Introduction to Software 460

Plug IT In 3 Fundamentals of Relational Database Operations 470

PI3.1 Query Languages 470

PI3.2 Entity–Relationship Modeling 471

PI3.3 Normalization and Joins 474

Plug IT In 4 Cloud Computing 481

PI4.1 Introduction 481

PI4.2 What Is Cloud Computing? 483

PI4.3 Different Types of Clouds 487

PI4.4 Cloud Computing Services 489

PI4.5 The Benefi ts of Cloud Computing 492

PI4.6 Concerns and Risks with Cloud Computing 493

PI4.7 Web Services and Service-Oriented Architecture 497

Plug IT In 5 Intelligent Systems 503

PI5.1 Introduction to Intelligent Systems 503

PI5.2 Expert Systems 506

PI5.3 Neural Networks 509

PI5.4 Fuzzy Logic 510

PI5.5 Genetic Algorithms 511

PI5.6 Intelligent Agents 512

Plug IT In 6 Project Management 517

PI6.1 Project Management for Information Systems Projects 517

PI6.2 The Project Management Process 519

PI6.3 The Project Management Body of Knowledge 521

Plug IT In 7 Protecting Your Information Assets 528

PI7.1 How to Protect Your Assets: The Basics 528

PI7.2 Behavioral Actions to Protect Your Information Assets 529

PI7.3 Computer-Based Actions to Protect Your Information Assets 531

Index 543
Revised and streamlined "Apply the Concept" activities now relate directly to chapter objectives.


New "Internship Activities" replace the Ruby's Club Activities from previous editions.  Each Internship Activity includes a software demo that requires students to apply new tools to business problems.

Revised "Collaboration Exercises" now each require use of Google Docs.
Revised and streamlined database and spreadsheet exercises for every chapter.



New author lecture videos for every section of every chapter will facilitate the switch to "flipped classrooms" and/or will provide additional learning support for students.


With the social networking function, this will facilitate further student discussion about activities and cases. 
Tested pedagogical Learning Unit structure: Comprises of tightly coupled concepts and Student- Activities for every section of the chapter (3-5 Learning Units per chapter).


Student Activities: This includes links to online videos and articles while Excel and Access exercises include automatically graded assessment.


Plug IT In Learning Extensions: Comprising with additional material of interest, Plug IT In enables a high degree of syllabus flexibility by providing extra content the instructor may add at their discretion.


What's in IT for Me?: This instructor-praised feature demonstrates how IT topics relate to students in each business major including Accounting, Finance, Marketing, Operations Management, MIS, and Human Resource Management.
WileyPLUS Learning Space: WileyPLUS Learning Space is an easy way for students to learn, collaborate, and grow. With WileyPLUS Learning Space, students create a personalized study plan, assess progress along the way, and make deeper connections as they interact with the course material and each other.
Through a combination of dynamic course materials and visual reports, this collaborative learning environment gives you and your students immediate insight into strengths and problem areas in order to act on what's most important.