Management Information Systems, 4th Edition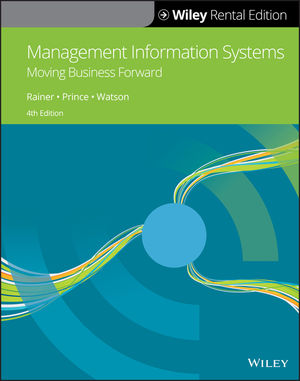 Management Information Systems, 4th Edition
Description
The 4th Edition of Management Information Systems promotes active learning like no other text in the market. Each chapter is comprised of tightly coupled concepts and section-level student activities that transport your students from passively learning about IS to doing IS in a realistic context.
Chapter 5: Completely rewritten chapter on Business Analytics. Chapter provides a visual overview of the Analytics process (Figure 5.3), and extensive coverage of descriptive analytics, predictive analytics, and prescriptive analytics.
Plug IT In 5: Completely rewritten Plug IT In on Artificial Intelligence. This Plug In differentiates between weak AI and strong AI and then addresses AI technologies such as expert systems, machine learning, deep learning, and neural networks. The Plug In continues with a discussion of AI applications, including machine vision, natural language processing, robotics, speech recognition, and intelligent agents.
Chapter 3 contains expanded coverage of Big Data.
Plug IT In 1 provides expanded coverage of business processes.
All new or updated IT's About Business, chapter opening and closing cases, and examples.
Pedagogical changes include: (a) Revised and streamlined "Apply the Concept" activities now relate directly to chapter objectives (b) New "Internship Activities" replace the Ruby's Club activities from previous editions. Each Internship Activity includes a software demo that requires students to apply new tools to business problems (c) Revised "Collaboration Exercises" now each require use of Google Drive. (d) Revised and streamlined database and spreadsheet exercises for every chapter. These include references to lessons in the WileyPLUS lab manual for students who need instruction or review.
WileyPLUS with ORION addresses the challenges of student readiness and retention, and helps instructors and students improve learning outcomes by integrating course content with learning tools, assessment, and practice activities within one adaptive platform. Based on cognitive science, ORION provides students with a personal, adaptive learning experience so they can identify what they know and don't know early, build their proficiency on topics, and use their study time most effectively. WileyPLUS with ORION helps students learn by learning about them.
Author Lecture Videos: Created by author Kelly Rainer, these short video clips reinforce key concepts from each learning objective and are integrated into the e-text throughout WPLS.
Technology Guides: These guides offer additional material on technology topics not included in the main text and current hot topics in IT.
Concise and Engaging: The chapters in this text provide what students need to know without overwhelming them with details.