Management by Menu, 4th Edition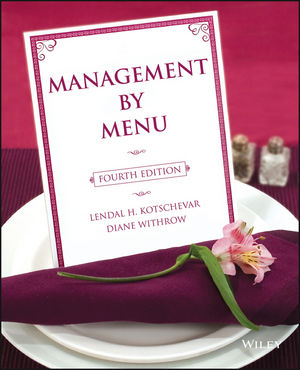 Management by Menu, 4th Edition
ISBN: 978-1-118-43332-4 May 2012 432 Pages
Description
Management by Menu, Fourth Edition presents the menu as the central influence on all foodservice functions. This unique approach clearly outlines both the "big picture" behind a well-run foodservice operation, and the practical details of costing, planning, analyzing, purchasing and production, beverage management, promotion, and service. Both students and working managers will come away from this book able to clearly develop a menu and effectively use it as a management tool.

Thoroughly updated with the latest changes affecting the industry, this Fourth Edition has also been revised to give readers a more hands-on learning experience. Sample menus, mini-case studies, self-test review questions, and other new features lead to greater interactivity and engagement with the material. Coverage of new, helpful technologies is now integrated throughout the book.
Preface.
1. A Look Back at the Foodservice Industry.
2. Profile of the Modern Foodservice Industry.
3. Planning a Menu.
4. Considerations and Limits in Menu Planning.
5. Cost Controls in Menu Planning.
6. Menu Pricing.
7. Menu Mechanics.
8. Menu Analysis.
9. The Beverage Menu.
10. Producing the Menu.
11. Service and the Menu.
12. The Menu and the Financial Plan.
13. Ethical Leadership in Restaurant Management.
Appendix A. Accuracy in Menus.
Appendix B. Number of Portions Available From Standard Containers.
Appendix C. Menu Evaluation.
Appendix D. Menu Factor Analysis.
Appendix E. A Brief History of Foodservice.
Notes.
Glossary.
Index.
The market-leading textbook for the menu management course, this text defines the way the subject is taught.
* Fully revised to coincide with changes in the foodservice industry.
* Contains updated chapters on uses of technology in menu development; accuracy in menus and using the menu as a marketing tool.
* New pedagogy added to reinforce active learning for students.