Management in 20XX: What will be important in the future -- a holistic view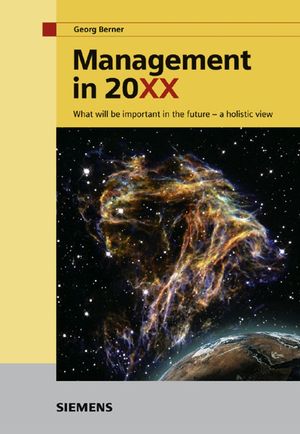 Management in 20XX: What will be important in the future -- a holistic view
ISBN: 978-3-895-78600-6
Jun 2007
224 pages
Description
The whole world is witnessing radical economic changes. Traditional markets are stagnating; global markets are emerging. Business processes are becoming more mobile, more flexible, and much more streamlined. The boom companies of yesterday have disappeared from the scene. Such an environment calls for innovative ideas - for new ways of doing business, for new products and services, and for a totally new world.

To survive, companies will have to be resilient and yet adaptable. To turn their visions into reality, they will have to act as well as react. Growth will come to only those companies that can identify demand and apply the right technological know-how to create tangible customer benefit. Development, marketing, and sales departments must arrive at the right strategies, just as corporate organization, production, and logistics managers must devise and implement the best possible processes.

The book lays out some remarkable scenarios and ambitious visions for the future. It helps readers to formulate ideas and plot new directions for their business and points out the changes needed to meet challenges that lie ahead. The new role people will play in the evolving world of business also receives attention in this book that is at once informative and inspiring.
LOOKING AT THE FUTURE ON THE BASIS OF CURRENT TRENDS.
General trends.
500 years into the future and 500 years into the past.
Technology trends.
Moore's law.
New components and computers.
Storage media.
Further disruptive technologies.
Robots and agents.
Information and communication.
Human, man-machine and machine-machine communication.
Network technologies.
Internet.
Next-generation networks.
Terminal devices.
Biotechnology.
Looking at the future on the basis of current trends – conclusion.
THE DIFFERENT SPHERES OF OUR LIVES.
At home.
At work.
On the move.
In public.
Fields of application.
Health.
Leisure and entertainment.
Learning.
Environmental protection.
The military.
New ways of doing business.
Electronic business.
Real-time business.
Mobile business.
The different spheres of our lives – conclusion.
PEOPLE AS CUSTOMERS.
Our lives.
Our roles.
Personalization of the moment.
Our needs and desires.
The emotional versus the rational.
Me Inc.
People as customers – conclusion.
THE ENTREPRENEUR'S JOYSTICK.
The way to achieve corporate objectives.
From the vision to the processes involved.
Strategic planning.
Operational implementation.
Organizations fit for individuals.
Forms of organization.
Project management.
Partnering and collaboration.
Management and coaching.
Processes.
Knowledge management.
Learning organizations.
Finance and controlling.
Balanced scorecard.
Sizing.
The business plan.
The entrepreneur's joystick – conclusion.
PROCESS E-VOLUTION IN COMPANIES.
Marketing.
Market research.
Customer segmentation.
Differentiation.
Marketing mix.
Electronic marketing.
Customer loyalty.
Knowing the customer.
The world of the customer's experience.
Customer support.
Electronic sales.
Customer relationship management (CRM).
Innovation.
The innovation process.
Digital development.
Platform concepts.
Applications.
Services.
Business models.
Production.
Logistics.
Process e-volution in companies – conclusion.
Conclusion.
Appendix.
Sources of the pictures and graphics in the fi gures.
Bibliography.