Management of Cleft Lip and Palate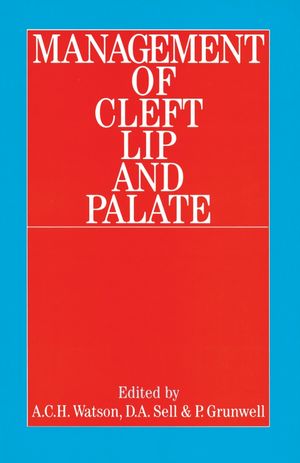 Management of Cleft Lip and Palate
ISBN: 978-1-861-56158-9 March 2001 330 Pages
Description
This book the successor to
Advances in the Management of Cleft Palate
edited by Margaret Edwards and Tony Watson and published in 1980 but it is different enough for its publishers and editors to feel that its name should be changed. The aim of this present book is to provide an up-to-date review of all aspects of the management of clefts. There are an increased number of chapters and the contributors represent a wider range of professions associated with the care of cleft lip and palate. There are new chapters on genetics, associated conditions and syndromes.
Contents:
The Nature of Cleft Lip and Palate
Embryology, incidence and aetiology
Classification
Anatomy and function
Facial Growth
Speech characteristics cleft condition
Associated conditions and syndromes
Management of the Infant and Young Child with a Cleft Lip and/or Palate
Prenatal diagnosis-abnormalities of the fetal lip and palate
Prenatal, perinatal and postnatal counselling
The role of the paediatrician
Early feeding management
Presurgical orthopaedics
Primary surgery and nursing care
Speech development and early intervention
Hearing and ENT management Management of the Older Child, Adolescent and Adult
Speech assessment and therapy
Assessment and surgical management of velopharyngeal function
Secondary surgery of lip and nose deformities and palatal fistulae
Orthodontics
Alveolar bone grafting
Orthognathic surgery Restorative dental treatment
Growing up with a cleft: the impact on the child
Role of parent support groups
Choosing the best treatment for the child with a cleft
Table of contents
The Nature of Cleft Lip and Palate.
1. Embryology, Aetiology and incidence.
2. Classification.
3. Anatomy and Function.
4. Facial Growth.
5. Speech and Cleft Palate/velopharyngeal Anomalies.
6. Genetics of Cleft lip and Palate management of The Infant and Young Child With a Cleft Lip And/or Palate.
7. Abnormalities of The Fetal lip and Palate, Sonographic Diagnosis.
8. Prenatal, perinatal and Postnatal Counselling.
9. The Role of The Paediatrician.
10. Early feeding Management.
11. Presurgical Orthopaedics.
12. Primary Surgery.
13. Pre- and Postoperative Nursing Care.
14. Speech Development and Early Intervention.
15. Hearing and ENT Management Management of The Older Child, Adolescent and adult.
16. Speech Assessment and Therapy.
17. Assessment and Surgical Management of Velopharyngeal Dysfunction.
18. Secondary Surgery of lip and Nose Deformities and Palatal Fistulae.
19. Orthodontics.
20. Alveolar Bone Grafting.
21. Orthognathic Surgery.
22. Restorative Dental Treatment.
23. Growing up With a cleft, The Impact on The Child.
24. Role of Parent Support Groups.
25. Choosing the Best Treatment for The Child With a Cleft.