Management of Unintended and Abnormal Pregnancy: Comprehensive Abortion Care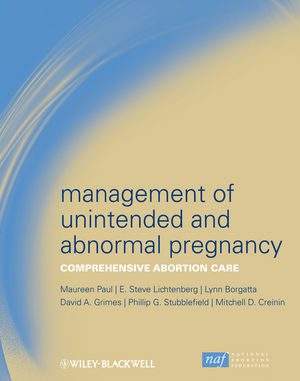 Management of Unintended and Abnormal Pregnancy: Comprehensive Abortion Care
ISBN: 978-1-405-17696-5 May 2009 Wiley-Blackwell 392 Pages
Description
Access to high quality abortion care is essential to women's health, as evidenced by the dramatic decrease in pregnancy-related morbidity and mortality since the legalization of abortion in the United States, and by high rates of maternal death and complications in those countries where abortion is still provided under unsafe conditions.
The past two decades have brought important advances in abortion care as well as increasing cross-disciplinary use of abortion technologies in women's health care. Abortion is an important option for pregnant women who have serious medical conditions or fetal abnormalities, and fetal reduction techniques are now well-integrated into infertility treatment to reduce the risks of multiple pregnancies resulting from assisted reproductive technologies.
Management of Unintended and Abnormal Pregnancy: Comprehensive Abortion Care is the textbook of the National Abortion Federation, and serves as the standard, evidence-based reference text in abortion care.  This state-of-the-art textbook provides a comprehensive overview of the public health implications of unsafe abortion and reviews the best surgical and medical practices for pregnancy termination, as well as managing ectopic and other abnormal pregnancies.
Management of Unintended and Abnormal Pregnancy: Comprehensive Abortion Care is the leading source for a comprehensive understanding of issues related to unintended and abnormal pregnancy.  This textbook:
is authored by internationally-known leaders in women's health care;
addresses unintended pregnancy and abortion from historical, legal, public health, clinical, and quality care perspectives;
includes chapters on pregnancy loss, ectopic pregnancy, gestational trophoblastic disease, and multifetal pregnancy reduction;
covers treatment of pregnancies in the first and second trimester by both medical and surgical techniques; and
provides resources for clinical, scientific, and social support for the abortion provider and patient.
Cannot be combined with any other offers.
Original Price:$275.50
Purchased together:$206.63
save $68.87
Cannot be combined with any other offers.
Original Price:$277.75
Purchased together:$208.31
save $69.44
Table of contents
Section I Abortion in perspective.
1 Abortion and medicine: A sociopolitical history (Carole Joffe PhD).
2 Unsafe abortion: The global public health challenge (Iqbal H. Shah PhD, and Elisabeth Ahman MA)
3 Unintended pregnancy and abortion in the USA: Epidemiology and public health impact (Stanley K. Henshaw PhD)
4 Abortion law and policy in the USA (Bonnie Scott Jones JD, and Jennifer Dalven JD).
Section II Pre-procedure care.
5 Informed consent, patient education, and counseling (Anne Baker MA, and Terry Beresford BA)
6 Clinical assessment and ultrasound in early pregnancy (Steven R. Goldstein MD, and Matthew F. Reeves MD, MPH).
7 Medical evaluation and management (Anne Davis MD, MPH, and Thomas Easterling MD).
8 Pain management (Mark Nichols MD, Glenna Halvorson-Boyd PhD, RN, Robert Goldstein MD, Clifford Gevirtz MD, MPH and David Healow MD).
Section III Abortion methods and techniques.
9 Medical abortion in early pregnancy (Mitchell D. Creinin MD, and Kristina Gemzell Danielsson MD, PhD).
10 First-trimester aspiration abortion (Karen Meckstroth MD, MPH, and Maureen Paul MD, MPH).
11 Dilation and evacuation (Cassing Hammond MD, and Stephen Chasen MD).
12 Medical methods to induce abortion in the second trimester (Nathalie Kapp MD, MPH, and Helena von Hertzen MD, DDS).
13 The challenging abortion (Lynn Borgatta MD, MPH, and Phillip G. Stubblefield MD).
Section IV Post-procedure care.
14 Contraception and surgical abortion aftercare (Eve Espey MD, MPH, and Laura MacIsaac MD, MPH).
15 Surgical complications: Prevention and management (E. Steve Lichtenberg MD, MPH, and David A. Grimes MD).
16 Answering questions about long-term outcomes (Carol J. Rowland Hogue PhD, MPH, Lori A. Boardman MD, and Nada Stotland MD, MSc, MPH).
Section V Management of abnormal pregnancies.
17 Pregnancy loss (Alisa B. Goldberg MD, MPH, Daniela Carusi MD, MSc, and Carolyn Westhoff MD).
18 Ectopic pregnancy (Jennifer L. Kulp MD, and Kurt T. Barnhart MD, MSCE).
19 Gestational trophoblastic disease (Neil J. Sebire MD, and Michael J. Seckl MD, PhD).
20 Abortion for fetal abnormalities or maternal conditions (Jeffrey S. Dungan MD, and Lee P. Shulman MD).
21 Multifetal pregnancy reduction and selective termination (Mark I. Evans MD, and David W. Britt PhD).
Section VI Abortion service delivery.
22 Providing abortion in low-resource settings (Laura Castleman MD, MPH, MBA, Beverly Winikoff MD, MPH, and Paul Blumenthal MD, MPH).
23 Ensuring quality care in abortion services (Beth Kruse MS, CNM, ARNP, and Carla Eckhardt CPHQ).
Appendix: Resources for abortion providers (Melissa Werner MPH, MAT).
Reviews
"This is a highly informative, well-referenced book, which covers the subject detail in a balanced, humane, sensitive and women centred way. The book is upbeat and positive about the alliance of abortion with sexual and reproductive health and the new prospects for leadership in abortion care resulting from this. This book is an essential read for those providing counselling and assessment for abortion care, as well as those providing abortion procedures." (British Journal of Sexual Medicine, October 2010)
Features
The Official Textbook of the National Abortion Federation
This book uniquely presents a breadth of information and expertise

Features practical guidance on women's choices, including the reduction of risks in multiple pregnancies arising from assisted reproductive technologies

Updated protocols for non-surgical induced and spontaneous abortion