Managerial Accounting, 4th Edition International Student Version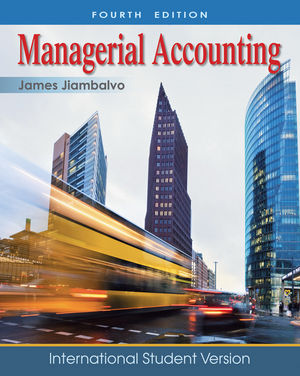 Managerial Accounting, 4th Edition International Student Version
Description
Recognizing that most students will pursue careers as managers not accountants, Managerial Accounting omits topics of less importance and concentrates on the key accounting concepts that managers need to understand in order to make successful, informed decisions.

Managerial Accounting focuses attention on decision making through incremental analysis and performance measurement.  Students are motivated to learn managerial accounting by connecting concepts and techniques to the real world; using real cases and real manager's comments on real company issues. Students and instructors alike have praised this text's clear and concise writing style, to-the-point discussions, illustrated ideas, and examples that are presented to make ideas concrete.
CHAPTER 1 MANAGERIAL ACCOUNTING IN THE INFORMATION AGE.
Goal Of Managerial Accounting.
Cost Terms Used In Discussing Planning, Control, And Decision Making.
Two Key Ideas In Managerial Accounting.
The Information Age And Managerial Accounting.
Ethical Considerations In Managerial Decision Making.
The Controller As The Top Management Accountant.
Summary Of Learning Objectives.
Appendix IMA Statement Of Ethical Professional Practice.
CHAPTER 2 JOB-ORDER COSTING FOR MANUFACTURING AND SERVICE COMPANIES.
Cost Classifications For Manufacturing Firms.
Product Cost Information In Financial Reporting And Decision Making.
Balance Sheet Presentation Of Product Costs.
Flow Of Product Costs In Accounts.
Income Statement Presentation Of Product Costs.
Types Of Costing Systems.
Overview Of Job Costs And Financial Statement Accounts.
Job-Order Costing System.
Eastlake Revisited: Using Job Cost Information.
Relation Between The Costs Of Jobs And The Flow Of Costs In Work In Process, Finished Goods, And Cost Of Goods Sold.
Allocating Overhead To Jobs: A Closer Look.
Job-Order Costing For Service Companies.
Modern Manufacturing Practices And Product Costing Systems.
Summary Of Learning Objectives.
CHAPTER 3 PROCESS COSTING.
Difference Between Job-Order And Process Costing Systems.
Product And Cost Flows.
Calculating Unit Cost.
Calculating And Applying Cost Per Equivalent Unit: Mixing Department Example.
Production Cost Report.
Basic Steps In Process Costing: A Summary.
Kent Chemical Revisited: Answering Stacy's Question.
Dealing With Transferred-In Cost: Packaging Department Example.
Process Costing And Incremental Analysis.
"You Get What You Measure!" And Manufacturing Processes.
Summary Of Learning Objectives.
CHAPTER 4 COST-VOLUME-PROFIT ANALYSIS.
Common Cost Behavior Patterns.
Cost Estimation Methods.
Multiproduct Analysis.
Assumptions In CVP Analysis.
Codeconnect Example Revisited: Answering Mary's Questions.
Operating Leverage.
Constraints.
Summary Of Learning Objectives.
Appendix Using Regression In Excel® To Estimate Fixed And Variable Costs.
CHAPTER 5 VARIABLE COSTING.
Full (Absorption) And Variable Costing.
Effects Of Production On Income For Full Versus Variable Costing: The Clausentube Example.
Benefits Of Variable Costing For Internal Reporting.
Summary Of Learning Objectives.
CHAPTER 6 COST ALLOCATION AND ACTIVITY-BASED COSTING.
Purposes Of Cost Allocation.
Process Of Cost Allocation.
Allocating Service Department Costs.
Problems With Cost Allocation.
Activity-Based Costing.
Activity-Based Management.
Remember—You Get What You Measure!
Summary Of Learning Objectives.
Appendix Activity Based Management.
Conclusion.
CHAPTER 7 THE USE OF COST INFORMATION IN MANAGEMENT DECISION MAKING.
Incremental Analysis.
Analysis Of Decisions Faced By Managers.
Decisions Involving Joint Costs.
Qualitative Considerations In Decision Analysis.
Summary Of Learning Objectives.
Appendix The Theory Of Constraints.
The Five-Step Process Of TOC.
Implications Of Toc For Inspections, Batch Sizes, And Across-The-Board Cuts.
You Get What You Measure And TOC.
CHAPTER 8 PRICING DECISIONS, ANALYZING CUSTOMER PROFITABILITY, AND ACTIVITY-BASED PRICING.
The Profit-Maximizing Price.
Pricing Special Orders.
Cost-Plus Pricing.
Target Costing.
Analyzing Customer Profitability: Revisiting The Priced Right Office Supplies Case.
Customer Profitability And Performance Measures.
Activity-Based Pricing.
Summary Of Learning Objectives.
CHAPTER 9 CAPITAL BUDGETING AND OTHER LONG-RUN DECISIONS.
Capital Budgeting Decisions.
Evaluating Investment Opportunities: Time Value Of Money Approaches.
Considering "Soft" Benefits In Investment Decisions.
Estimating The Required Rate Of Return.
Additional Cash Flow Considerations.
Other Long-Run Decisions.
Simplified Approaches To Capital Budgeting.
Conflict Between Performance Evaluation And Capital Budgeting.
Wilson Air Example Revisited.
Summary Of Learning Objectives.
Appendix A: Using Excel® To Calculate Npv And Irr.
Appendix B.
CHAPTER 10 BUDGETARY PLANNING AND CONTROL.
Use Of Budgets In Planning And Control.
Developing The Budget.
The Master Budget.
Use Of Computers In The Budget Planning Process.
Budgetary Control.
Investigating Budget Variances.
Conflict In Planning And Control Uses Of Budgets.
Evaluation, Measurement, And Management Behavior.
The Preston Joystick Case Revisited.
Summary Of Learning Objectives.
CHAPTER 11 STANDARD COSTS AND VARIANCE ANALYSIS.
Standard Costs.
A General Approach To Variance Analysis.
Material Variances.
Direct Labor Variances.
Overhead Variances.
Comprehensive Example: Darrington Ice Cream.
Investigation Of Standard Cost Variances.
Responsibility Accounting And Variances.
Summary Of Learning Objectives.
Appendix Recording Standard Costs In Accounts.
CHAPTER 12 DECENTRALIZATION AND PERFORMANCE EVALUATION.
Why Firms Decentralize.
Why Companies Evaluate The Performance Of Subunits And Subunit Managers.
Cost Centers, Profit Centers, And Investment Centers.
Evaluating Investment Centers With ROI.
Evaluation Using Economic Value Added (EVA).
Using A Balanced Scorecard To Evaluate Performance.
Developing A Strategy Map For A Balanced Scorecard.
Keys To A Successful Balanced Scorecard: Targets, Initiatives, Responsibility, Funding, Top Management Support.
Summary Of Learning Objectives.
Appendix Transfer Pricing.
Market Price As The Transfer Price.
Market Price And Opportunity Cost.
Variable Cost As The Transfer Price.
Full Cost Plus Profit As The Transfer Price.
Negotiated Transfer Prices.
Transfer Pricing And Income Taxes In An International Context.
CHAPTER 13 STATEMENT OF CASH FLOWS.
Need For A Statement Of Cash Flows.
Types Of Business Activities And The Classification Of Cash Flows.
The Statement Of Cash Flows Prepared Using The Direct Method.
Preparing The Statement Of Cash Flows Using The Indirect Method.
Interpreting Information In The Statement Of Cash Flows: The Situation
At Ravira Restaurant Supply.
Summary Of Learning Objectives.
CHAPTER 14 ANALYZING FINANCIAL STATEMENTS: A MANAGERIAL PERSPECTIVE.
Why Managers Analyze Financial Statements.
Horizontal And Vertical Analyses.
Analysis Of The Balance Sheet 521
Earnings Management And The Need To Compare Earnings And Cash-Flow Information.
Other Sources Of Information On Financial Performance.
Ratio Analysis.
A Managerial Perspective On The Analysis Of Hgw's Financial Statements.
Summary Of Analyses.
Summary Of Learning Objectives.
Glossary.
Photo Credits.
Index.
In the fourth edition, the end-of-chapter material has been completely rewritten and correlated to the learning objectives throughout the text.
Greater emphasis on the service and retail sector.
New comprehensive review problems have been added to each chapter.
The features Incremental Analysis and "You Get What You Measure," have been expanded and are now included in every chapter.
New Links to Practice showing the real-world relevance of the material.
New comprehensive example of Job-Order Costing for a service company (a call center in India) in Chapter 2.
New comprehensive example of the impact of the Activity-Based Costing (ABC) on product profitability in Chapter 6.
Material has been reorganized so the chapter on Financial Statement Analysis  comes after the chapter on the Statement of Cash Flows.
The text focuses on two key ideas of managerial accounting: 1) decision making relies on incremental analysis and (2) You Get What You Measure! These two key ideas are emphasized in each chapter
Links to Practice boxes and cases in each chapter provide opportunities for students to focus on decision making with real-world applications that make managerial accounting come alive
Coverage of cutting-edge topics including the balanced scorecard, economic value added (EVA), activity-based costing, activity-based management, activity-based pricing, and the theory of constraints
Each chapter of Managerial Accounting includes one or more cases. These cases promote critical thinking and decision-making skills, provide an opportunity for group work and/or written communication
Each chapter has three short exercises that focus on small group discussion, writing, or Web research.