Managerial Accounting, 5th Edition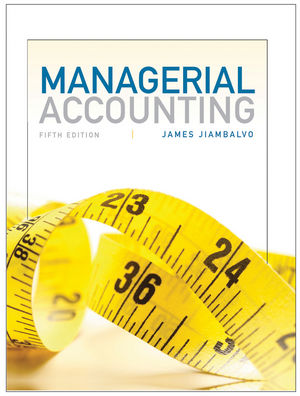 Managerial Accounting, 5th Edition
ISBN: 978-1-118-07876-1
Oct 2012
544 pages
Product not available for purchase
Description
Recognizing that most students will pursue careers as managers, not accountants, Managerial Accounting, 5th Edition by James Jiambalvo is designed to teach the fundamental ideas of managerial accounting while making direct connections between managerial accounting, techniques in the business world, and students' future careers. Students and instructors alike have praised this texts clear and concise writing style, to-the-point discussions, real world cases, manager's insights, illustrated ideas, and examples. This new edition provides students with many opportunities to test their knowledge as they learn the concepts throughout each chapter. This text is an unbound, binder-ready edition. WileyPLUS sold separately from text.
Chapter 1 Managerial Accounting in the Information Age 3
Chapter 2 Job-Order Costing for Manufacturing and Service Companies 37
Chapter 3 Process Costing 85
Chapter 4 Cost-Volume-Profit Analysis 121
Chapter 5 Variable Costing 173
Chapter 6 Cost Allocation and Activity-Based Costing 205
Chapter 7 The Use of Cost Information in Management Decision Making 257
Chapter 8 Pricing Decisions, Analyzing Customer Profitability, and Activity-Based Pricing 297
Chapter 9 Capital Budgeting and Other Long-Run Decisions 329
Chapter 10 Budgetary Planning and Control 371
Chapter 11 Standard Costs and Variance Analysis 417
Chapter 12 Decentralization and Performance Evaluation 453
Chapter 13 ONLINE ONLY – Statement of Cash Flows 501
Chapter 14 ONLINE ONLY – Analyzing Financial Statements: A Managerial Perspective 535

Glossary G-1

Index I-1
The biggest change to the book is that Chps 13 (Statement of Cash Flows) and 14 (Analyzing Financial Statements) are being removed from the printed text. They will still appear online and in the WileyPLUS course.
All of the end-of-chapter material has been updated (new dates, values)
There is a new "Test Your Knowledge" feature in the book. This is a multiple choice question inserted after key concepts in the chapter (2-3 per chp) as a quick check for students to make sure they understand what they've read.
One of the most concise managerial accounting books on the market.
The text focuses on two key ideas of managerial accounting: 1) decision making relies on incremental analysis and (2) You Get What You Measure! These two key ideas are highlighted in each chapter through specific examples.
Links to Practice boxes and cases in each chapter provide opportunities for students to focus on decision making with real-world applications that make managerial accounting come alive
Coverage of cutting-edge topics including the balanced scorecard, economic value added (EVA), activity-based costing, activity-based management, activity-based pricing, and the theory of constraints
Each chapter of Managerial Accounting includes one or more cases. These cases promote critical thinking and decision-making skills, provide an opportunity for group work and/or written communication
Each chapter has three short exercises that focus on small group discussion, writing, or Web research.