Managerial Accounting: Tools for Business Decision Making, 8th Edition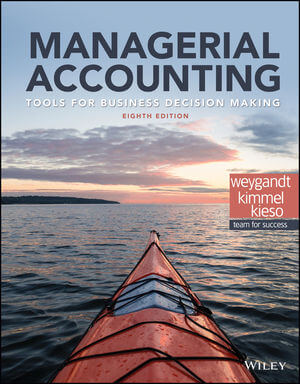 Managerial Accounting: Tools for Business Decision Making, 8th Edition
ISBN: 978-1-119-39045-9
Nov 2017
Description
Managerial Accounting provides students with a clear introduction to fundamental managerial accounting concepts. One of the major goals of this product is to orient students to the application of accounting principles and techniques in practice. By providing students with numerous opportunities for practice with a focus on real-world companies, students are better prepared as decision makers in the contemporary business world.
1. Managerial Accounting
2. Job Order Costing
2A. Job Order Costing (Non-Debit and Credit Approach)*
3. Process Costing
3A. Process Costing (Non-Debit and Credit Approach)*
4. Activity-Based Costing
5. Cost-Volume-Profit
6. Cost-Volume-Profit Analysis: Additional Issues
7. Incremental Analysis
8. Pricing
9. Budgetary Planning
10. Budgetary Control and Responsibility Accounting
11. Standard Costs and Balanced Scorecard
12. Planning for Capital Investments
13. Statement of Cash Flows
14. Financial Statement Analysis
A. Time Value of Money
Cases for Management Decision Making*
*Available in WileyPLUS and Wiley Custom
Expanded Video Library:The coursenow includes twice the number of Solution Walkthrough Videos, providing students with complete coverage of every problem in the course and most of the frequently assigned exercises. Library also includes Course Section Opener Videos, Applied Skills Videos, Excel Tutorials, and Managerial Series videos.
Expanded Coverage of Managerial Topics in a More Modular Presentation: This make the course more customizable.
Narrated Interactive Tutorials: Provide students with an enhanced, mobile-friendly experience that allows students to navigate by subtopic to review the content they find most challenging.
Additional content: Includes alternate course sections offering coverage of costing without the use of debits and credits, and further discussion of regression analysis with problem material and excel tutorial videos.
Practice Made Simple:Updated with new brief exercises, including solutions, to provide students with additional practice opportunities built into the course.
The Waterways Continuing Problem:Uses the business activities of a fictional company to help students apply managerial accounting topics to a realistic entrepreneurial situation.