Managerial Decisions Under Uncertainty: An Introduction to the Analysis of Decision Making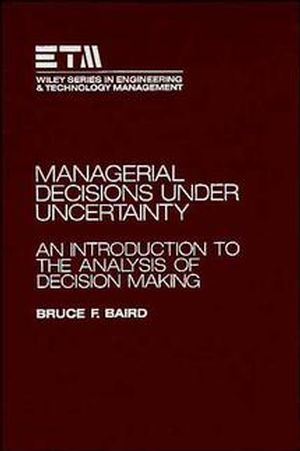 Managerial Decisions Under Uncertainty: An Introduction to the Analysis of Decision Making
ISBN: 978-0-471-85891-1 May 1989 544 Pages
Description
How to improve decision-making skills in realistic situations and do it in a reasonably nonmathematical fashion. Develops practical techniques for deciding upon the best strategies in a variety of situations. Provides methods for reducing complex problems to easily-drawn decision diagrams (trees), supported by real-world examples. Includes detailed cases that employ the methods described in the text. Each chapter contains illustrative examples and exercises.
Some Fundamental Concepts.

Elementary Probability Theory.

Random Variables and Probability Distributions.

Theoretical Probability Distributions.

Decision Theory and Inference.

Some Elementary Bayesian Concepts.

Construction of Decision Diagrams.

Information and Revision of Probabilities.

Probability Assessment.

The Theory and Application of Utility.

Sensitivity Analysis.

Decision Making and the Normal Distribution.

Multicriteria Decisions.

Cases.

Appendices.

Answers to Selected Exercises.

Bibliography.

Index.